A few weeks ago, we introduced you to Alton Nolen, a domestic jihadist who beheaded his 54-year-old co-worker Colleen Hufford. The FBI not surprisingly labeled his horrific actions "an act of workplace violence," and President Barack Hussein Obama not surprisingly avoided making any comments about either Alton Nolen or the unfortunate and unnecessary demise of his victim, Colleen Hufford.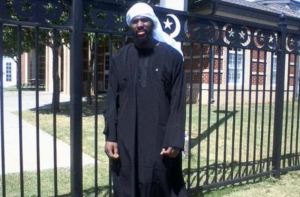 Fast forward to this past Friday, when according to KFOR-TV, Colleen Hufford was put to rest at Southgate Baptist Church in Moore, Okla. So how did our president, who refuses to even acknowledge her tragic execution by domestic jihadist Alton Nolen, respond to her funeral?
The Daily Caller reports that he sent an official to Oklahoma City a day after her funeral "to offer words of praise to congregants at the mosque attended by Alton Nolen":
David Myers, the director of the Department of Homeland Security's Center for Faith-based & Neighborhood Partnerships, spoke at the Greater Islamic Society of Oklahoma City's Eid al-Adha celebration . . .
"Your service is a powerful example of the shared roots of the Abrahamic faiths and how our communities can come together in shared peace with dignity and a sense of justice," said Myers, reading from a letter penned by President Barack Obama.
. . . [I]n the letter, Obama thanked the congregation for their community service in the aftermath of a devastating tornado that wrecked havoc in Moore last year.
But it gets worse. Last week, blogger Robert Spencer 
interviewed
 a former member of that same mosque, and in this interview, the member revealed that the mosque and its iman,  Imad Enchassi, are anything but moderate Muslims:
Watch the full interview yourself:
[youtube RH_DQHCsghs]
Myers' special trip was seemingly meant to counteract negative attention the mosque has received following Nolen's gruesome murder of coworker Colleen Hufford."