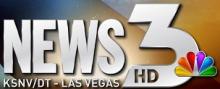 (CNSNews.com) — Three local NBC affiliates and their corporate parent company gave a total of $40,000 to Ross Miller, the Democratic candidate for state attorney general in Nevada, but reportedly failed to mention that fact to viewers during their coverage of the hotly contested race.
On Tuesday, Miller – who is currently Nevada's secretary of state – lost his race against underdog Republican Adam Laxalt by a one-point margin. Laxalt managed to overcome an early 17-point deficit to eke out a 46-to-45 victory on a night in which the GOP swept Nevada's top state races.
Miller raised $2.1 million during the campaign, according to the expense report he filed with his own office a day before the Nov. 4 election.
According to the expense account, Miller received a $10,000 donation, the maximum contribution allowed, from Intermountain West Communications Co., the owner of Nevada's three NBC stations, between Oct. 11 and Oct. 30.
He also received another $10,000 each from KRNV (News 4) in Reno, KENV (News 10) in Elko, and KSNV (News 3) in Las Vegas. According to Miller's expense report, the contributions were all made on October 17, one day before Nevada began early voting, which ended on October 31.
Laxalt raised a total of $1.3 million during the campaign, but none of the contributions he received during the same reporting period came from a media company.
Robert Uithoven, a Laxalt campaign consultant, complained that each of the NBC affiliates provided extensive coverage of the Miller-Laxalt race, which he called "one of the most contested and expensive races in Nevada," but failed to disclose their monetary contributions to Miller's campaign.
Uithoven added that Laxalt paid the same stations to run his political ads. "These are local news stations that people rely upon for unbiased, fair coverage," he told CNSNews.com. "It's almost like we're donating directly to our opponent. It's disgusting."
"According to Ross Miller's latest expense report, your station donated $10,000 to his campaign for state attorney general, a race KSNV has covered extensively. Did KSNV disclose this campaign contribution to viewers on air?" CNSNews.com asked Lisa Howfield, KSNV's president and chief operating officer, in an email.
"If so, when did this disclosure occur? Is it available on videotape?
"If not, do you think it is ethical for a television news station to cover a political race while secretly making a substantial donation to just one of the candidates?" CNSNews.com inquired.
Howfield replied via email: "This event has nothing to do with Sinclair Broadcast Group. The activity occurred under previous ownership."
CNSNews.com also asked KRNV general manager Amie Chapman the same questions. Her reply was identical to Howfield's: "This event has nothing to do with Sinclair Broadcast Group. The activity occurred under previous ownership."
An employee at KENV referred all media inquiries to Chapman.
According to the Las Vegas Review-Journal, Sinclair Broadcasting Group, Inc. (SBG) "bought Reno's KRNV-TV last fall for $26 million."  The newspaper also reported on Sept. 3 that SBG would be purchasing KSNV-TV during the first quarter of 2015.
However, Barry Faber, executive vice president and general counsel at SBG, told CNSNews.com in an email that "contrary to what you may have read in a newspaper, Sinclair did not buy KRNV.  Rather, we provide certain services to the station pursuant to a management agreement.
"It may be that the owners of the licensee of KRNV made a contribution to Ross Miller, but Sinclair and its owners and personnel did not and have no knowledge of, or involvement in, any political contributions made by such owners," Faber stated.
"Intermountain still owns KRNV," Faber confirmed, noting that SBG provides "certain services pursuant to a joint sales agreement and a shared services agreement."
He added that "Intermountain continues to own KENV; similar to KRNV Sinclair provides certain services to KENV (which essentially serves as a satellite of KRNV).  Intermountain also owns the station that previously had the call letters, KSNV, but that station recently switched call letters with KVMY, which is owned by Sinclair.  The NBC programming is now on the station owned by Sinclair."
CNSNews.com's attempts to reach Intermountain for a comment on the campaign donations to Miller were unsuccessful. The company was owned by multi-millionaire James E. Rogers, who had an office at KSNV in Las Vegas, until his death in June.