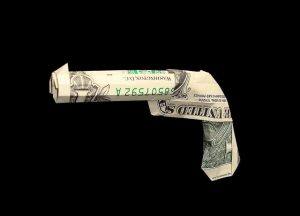 Israel Forbes ranked Hamas as the world's second richest terror group, behind only ISIS. The
original article
's in Hebrew, but
i24 News
picked up on this.
Hamas reportedly gets $1 billion annually from taxing goods that come in to the Gaza Strip, which it has controlled since 2007, and from charitable contributions by organizations and individuals abroad. Various reports indicate that over the years it has also been taking a cut from the funding provided by Western and Arab governments to help Gaza's impoverished 1.8 million Palestinians. A 2010 assessment by Israel's Shin Bet security agency put the organization's expenditures on salaries and weaponry at some $300 million.

Despite a downturn in its fortunes – with Iran and Egypt cutting off aid in recent years, it has money-bearing investments. i24news analyst Ali Waked says the organization reaps revenues from investments in tourism and entertainment businesses in Turkey, South America and elsewhere.
Why isn't the UNRWA investigating how rockets turned up in its schools?
Is the PLO Dictating Reuters Content? How does Reuters refer to the Temple Mount, and why does it matter?
Who is Killing Israelis? Knives, Cars, or Terrorists? CNN and other media don't report that Palestinian terrorists are killing Israelis. Only that Israelis are victims of "knife attacks" and "car attacks."