It's possibly the oldest time capsule uncovered in the U.S.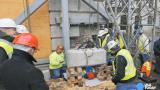 The original contents of a capsule discovered Thursday were placed in 1795 by Governor Samuel Adams, Paul Revere, and William Scollay during a special ceremony, according to historical accounts.

According to the Boston Globe, The copper box is similar in size to a cigar box and has turned green from oxidation. It was found in the cornerstone of the statehouse on Beacon Hill, which was completed in 1798.

It's the second time the time capsule has been unearthed. It was removed in 1855 during emergency repairs to the building and was then replaced.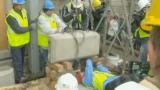 The capsule is believed to include silver and copper coins dating from between 1652 and 1855; an engraved silver plate; newspapers; the seal of the Commonwealth; cards; and a title page from the Massachusetts Colony Records, according to Meghan Kelly, a spokeswoman for the Executive Office of Administration and Finance.
USA Today reports, that the world will have to wait a little longer to learn the truth about exactly what's inside. The box is scheduled for an X-ray over the weekend.