For months Americans have railed against Obama's release of the very worst Islamic terrorists (including many senior commanders) from Gitmo. Obama traded a deserter, a US soldier who went AWOL to join the jihad, for five senior Taliban commanders.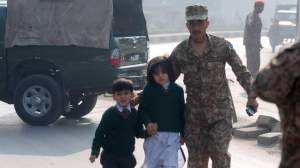 So it comes as little surprise that it may very well be one of Obama's pardons that led to today's savage slaughter of over 140 children by the Taliban at a school in Pakistan. Correspondents say that the repatriation of a senior Taliban figure is "extremely unusual." Latif Mehsud was second-in-command to the former Pakistan Taliban chief, Hakimullah Mehsud, who was killed in a US drone strike last year. The same group that attacked the school today.
Eight days prior to the slaughter at the school in Pakistan, Obama released Latif Mehsud, a Taliban Commander, who headed the same Taliban group that has taken responsibility for the mass slaughter.
Peshawar school attack: Taliban 'burn teacher alive in front of pupils and behead children'
The Viral Buzz has this:
Obama May Be Linked to Massacre in Pakistan (Video)

Only eight days prior to the horrendous slaughter of children and school staff in Pakistan, Barack Obama released Pakistani Taliban leader, the second in command of Tehreek-e-Taliban Pakistan (TTP). This is the exact group claiming responsibility for today's massacre in Peshawar, leaving 141 dead.

Senior TTP commander Latif Mehsud (pictured above) was handed over to Pakistani authorities according to the source there. This was not the first time Obama has handed over Taliban leaders to Pakistan authorities who then have released them into the main populace. It is not without merit to wonder if today's attack has any relation to his being set free.

Nearly a year ago John Kerry was hailing this particular terrorist arrest by the US and now we see he has been let go. How long must we watch American leadership aid and abet the enemies of our people and way of life?
Obama Releases 2nd in Command of Pakistani Taliban," Daniel Greenfield, Front Page Magazine December 7, 2014
American soldiers died to bring down the Taliban and their sacrifice is rewarded by Obama in this way.

United States officials handed over three Pakistani prisoners to Islamabad on Sunday, one of whom is a senior Taliban commander long sought after by the Pakistani government, security officials said.

Though the US did not identify the detainees, Pakistani sources say the Taliban commander is Latif Mehsud (pictured above), former number two commander in the Pakistani Taliban and close aid of Taliban chief Hakimullah Mehsud, who was killed in a US drone strike last year.

"TTP (Tehreek-e-Taliban Pakistan) senior commander Latif Mehsud who was arrested was handed over to Pakistani authorities along with his guards," one Pakistani security official said. "They reached Islamabad."

Obama did this before, and Pakistan freed the Taliban leaders turned over to them. The Taliban movement was a creature of Pakistan. The Afghan authorities meanwhile had claimed that Latif was their man. So on the plus side the US did not them him over to the Afghans.

Last year Kerry was claiming that Latif's capture was a major victory. Now he's effectively being released.
[youtube RmhCMDvQ26M nolink]