He was supposed to be off for Christmas break, but Bill O'Reilly couldn't stay silent on his views about the Saturday shooting of two New York City police officers.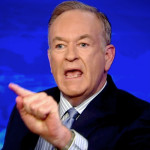 13-Year-Old Son of Fallen NYPD Officer Posts Heartbreaking Goodbye to Father on Facebook
Phoning into his own Fox News show, "The O'Reilly Factor,"  he called tonight for the resignation of New York Mayor Bill de Blasio.
"This is an individual who should resign today," O'Reilly said during a heated segment. "He cannot run the city. He lost control of the police department and their respect–they will never come back no matter what he says because he sided with the protesters."
Watch his "no spin" take on the situation above.
Taxpayers Fund Legal Group With Role in Rap Video About Killing Police Officers
[youtube oxhvDiD1AyU nolink]
Source material can be found at this site.