Think you paid too much tax in 2013? Looking for a big break for 2014?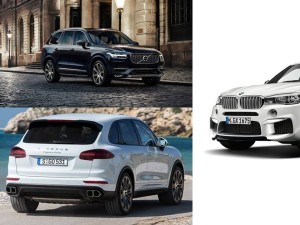 Thanks to the temporary tax cut deal the Republicans struck last December, you can write off the full cost of purchasing a new luxury SUV—provided it's used 100% for business and its gross vehicle weight is more than 6,000 pounds. Qualifying 2014 models include the Porsche Cayenne Turbo (MSRP: $106,000) , the BMW X6 M (MSRP: $89,200) and the Volvo XC90-R (MSRP: $48,635).
If this high octane tax deduction sounds to you like an echo from the past, it is. Early last decade, there was a public furor over the "Hummer loophole" which allowed small business owners and self employed folks (including doctors, real estate agents and others with a purported business use for a vehicle) to deduct most of the cost of purchasing big SUVs.
Back then, taxpayers were exploiting Section 179 of the U.S. Tax Code – a provision designed to allow small businesses to expense (or immediately write off) small capital investments. As part of the 2003 Bush tax cuts, the maximum Section 179 write-off was increased from $24,000 to $100,000. In October 2004, after the Hummer hullabaloo, Congress limited the write-off for trucks weighing between 6,000 and 14,000 pounds to $25,000, curbing luxury SUVs' tax appeal. (Write-offs for luxury cars were already more limited.)
But as my colleague Ashlea Ebeling explains in a story here in Forbes about smart tax moves for the next two years, an immediate SUV write off is allowed again under a different, even more generous provision of the tax code, good through Dec. 31, 2014. She writes:
Last December's bipartisan tax deal included a temporary 100% write-off (known as 100% bonus depreciation) for new equipment placed in service by Dec. 31, 2013. This break, which is unlikely to be extended, isn't just for big companies. "It could be significant savings for the little guy, too," says Howard Krant, a New York City CPA. He notes that 100% bonus depreciation can be more valuable than another, longer-standing 100% write-off provision (known as Section 179) available to small businesses. That's because you can't use Section 179 to claim a loss.
By contrast, if you're actively involved in running a business, you can buy new equipment, use 100% bonus depreciation to generate a net operating loss and use that loss to offset other income on your tax return. And if you don't have enough other income in 2011 to sop up the loss, you can carry it back and get a refund check from Uncle Sam for taxes paid in a prior year. Plus, there's no special $25,000 SUV limit as there is with Section 179.
Steve Ellis, vice president of Taxpayers For Common Sense, the non-profit group which helped stir up outrage over the Hummer loophole, expressed surprise Friday that Congress hadn't limited 100% bonus depreciation to vehicles weighing more than 14,000 pounds. "Those who forget history are doomed to repeat it,'' he sighed. He argues the 100% vehicle write-off should be restricted to farm equipment, panel trucks and the like. "We're giving a Realtor an incentive to get a BMW X5 instead of buying a more fuel efficient vehicle,'' he complained.
But during an online "Tax Talk Today" seminar for tax pros jointly sponsored by the National Association of Enrolled Agents, Tax Analysts and Tax.Com, Silicon Valley CPA and EA Sharon Kreider warned there is a downside, too, to taking 100% bonus depreciation: You can't turn around and sell the vehicle or you'll be taxed on depreciation recapture. "I want to warn the client, never ever sell the vehicle. You can trade it in…but if (you) sell, there's a whole bunch of tax to pay back,'' she said.