Terrorists hurled bomb at IDF, plotted to kill soldier, civilian, steal gun for shooting attack, Shin Bet says
The Judea Military Court on December 18 indicted three members of a Hebron Islamic State cell for plotting a range of terrorist attacks, it was revealed Sunday. Following the lifting of a gag order, the Shin Bet (Israel Security Agency) announced that it had arrested the three in November and its members detonated a bomb in a failed attack against soldiers, which caused no injuries.
Members of the group are all residents of Hebron, the Shin Bet added, naming three men in their early 20s. They acted alone, and had no contact with outside elements, security sources familiar with the investigation said.
Sources said suspect Ahmed Shahada, 22, confessed to setting up an Islamic State cell with the two other suspects and plotting attacks. He admitted to building a number of bombs, one of which he threw at an army unit.
"They planned to murder an IDF soldier and use his weapon and uniform to carry out a shooting attack," the Shin Bet stated.
It named Muhammad Zaro, 21, and Qassai Div Masawada, 23, as the other suspects and said they also have confessed.
Shahada and Masawada allegedly headed out to carry out another attack in recent months, but turned back after their effort failed. Additionally, they plotted to kill an Israeli resident of Hebron at the city's Avraham Spring and steal his weapon.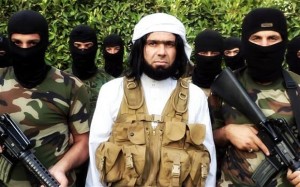 They started to meet around mid-summer, according to the indictment, which states that Shahada told Zaro the activities and ideology of Islamic State could improve their lives.
The indictment stated that he told Zaro the attacks should target both Israel and the Palestinian Authority, particularly the PA police station at Bab el-Zawiya.
The defense establishment assesses that Salafi jihadism remains a marginal force in the West Bank, but one that could grow in scope and danger if it exploits a power vacuum. The ideology of the Islamic State is gaining traction in some quarters in the Palestinian territories, but has not yet become a significant presence.
In December 2013, special forces shot dead members of a Palestinian Salafi-jihadist terrorist cell near Hebron in a gun battle.