Cherif and Said Kouachi, the two Muslim suspects in the Charlie Hebdo massacre, were killed when French police raided a warehouse where the brothers were holding one person captive. A third suspected Muslim terrorist was killed by police at a Kosher grocery in Paris. Hostages at both locations were freed, but others are reportedly dead.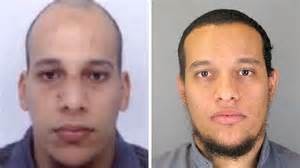 THREE MUSLIM TERRORISTS BEHIND TERROR ATTACKS IN FRANCE

HAVE BEEN

KILLED AFTER POLICE STORMED BOTH SCENES

CHARLIE HEBDO SUSPECTS

SAID

AND CHERIF KOUACHI

KILLED

IN

PRINT WORKS

IN NORTH

EAST FRANCE

GUNFIRE AND EXPLOSIONS  IN  DAMMARTIN-EN-GOELE WHERE THE

TWO BROTHERS WERE HOLDING A HOSTAGE. REPORTS HOSTAGE

I

S FREE AND ALIVE




POLICE CONFIRM THAT FOUR HAVE DIED IN THE PARIS SIEGE – THREE HOSTAGES AND  HOSTAGE TAKER AMEDY COULIBALY

ARMED OFFICERS STO

RMED THE

JEWIS

H SUPERMARKET

WHERE 

COULIBALY 

HAD BEEN

LOCKED IN A BLOODY STANDOFF




KOUACHI BROTHERS TOLD POLICE

THEY 'WANT TO DIE AS MARTYRS FOR ALLAH'

PAIR

WERE ON U

.

S.

'NO FLY' LIST,

COUNTERTERRORISM SOURCES 

AUTHORITIES BELIEVE THERE 'IS A LINK' BETWEEN

MONT

ROUGE SH

OOTER

WHO KILLED A

POLICE

WOMAN

YESTERDAY AND

CHARLIE

HEBDO

ATTACK

TERROIST SAID THEY WERE MOTIVATED BY THE KORAN AND THEIR FAITH IN ISLAM.
One of two Muslim terrorist that carried out the deadly shooting at a French satirical weekly met leading al Qaeda Muslim preacher Anwar al Awlaki during a stay in Yemen in 2011, a senior Yemeni intelligence source told Reuters on Friday.
U.S. born and web-savvy, Awlaki was seen as an influential Muslim and international recruiter to the al Qaeda movement and a prominent figure in Al Qaeda in the Arabian Peninsula (AQAP), the group's most active affiliate. He was killed in September 2011 in a drone strike widely attributed to the CIA.