The White House announced today President Obama would veto the Pain-Capable Unborn Child Protection Act if it came to his desk.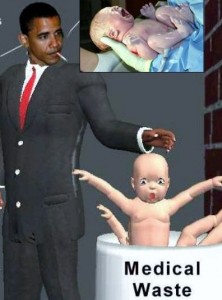 The bill, which is scheduled for a vote in the House Thursday, would ban elective abortions after twenty weeks–or five months of pregnancy.
That's a policy that has huge public support.
According to a November Quinnipiac poll, 60 percent of Americans back banning abortion, except in cases of rape or incest reported to the authorities, after 20 weeks. There's virtually no gender divide: 59 percent of women support the ban. Furthermore, the age breakdown shows widespread support for the ban by:
        57 percent of 18-29 year olds
        61 percent of 30-49 year olds
        63 percent of 50-64 year olds
        58 percent of 65+ American voters
In this divided age, there's little that unites Americans in such large numbers as this ban does.
Most of the world already has such a ban. Only six other countries besides the United States allow elective abortions after 20 weeks, including China and North Korea.
By the time a pregnancy is 20 weeks along, the unborn child is hearing, has fingernails and toenails, and a beating heart.
The child is also close to being potentially able to survive outside the womb. In 2011, 21-one-week-old Frieda Mangold was born in Germany.
She made it.
Little Frieda faced huge obstacles: she weighed just over a pound when born. Sadly, her twin brother didn't survive. But Frieda's birth shows how incredibly developed these 20-week-old babies are, even at this early stage.
The White House said the bill "would unacceptably restrict women's health and reproductive rights and is an assault on a woman's right to choose." But this policy wouldn't affect a woman's choice in the first five months of her pregnancy.
Most countries have this ban. Most Americans, including most women, support this ban.
Why doesn't President Obama?
Source material can be found at this site.