Former Hewlett-Packard CEO Carly Fiorina criticized House Republican leadership in a speech Saturday for their decision this week to postpone the vote on the Pain Capable Unborn Child Protection Act, after some Republican House members objected to the legislation.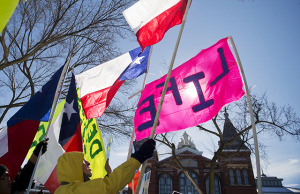 She also took aim at the left as well, saying in her remarks at the Iowa Freedom Summit that "it is on the issue of life that the hypocrisy of liberals is at its most breathtaking."
"Liberals believe that flies are worth protecting," Fiorina, a potential 2016 presidential candidate, said, "but that the life of an unborn child is not."
11 Things Said by GOP White House Hopefuls at the Iowa Freedom Summit
Noting that the majority of women and Americans believed that permitting most abortions after twenty weeks was "extreme," Fiorina talked about House GOP leaders:
Politics, apparently, intervened to prevent the Pain Capable Unborn Child Protection Act from being brought to the floor for a vote. This is disappointing. Because what it says is that once again, politics has triumphed over principle, and expediency has triumphed over courage. This is not leadership of the House.
The Pain Capable Unborn Child Protection Act would have banned abortions after twenty weeks, except in cases where rape or incest was reported to authorities.
Fiorina also spoke in her speech about her views on abortion, talking about how her mother-in-law had been urged to abort her husband, Frank, due to the health risks of the pregnancy.
Source material can be found at this site.