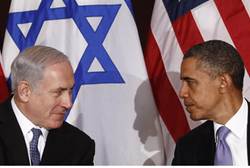 The Likud party held a press conference in Tel Aviv Sunday in which it exposed details about "V15 – Victory in 2015," a campaign it says is using foreign money, and lots of it, to boost Labor and Meretz in the elections.
Likud has filed a motion to the Elections Committee, according to which V15 is carrying out an illegal indirect campaign with a connection to Labor and Meretz. V15 is "making criminal use of foreign sources of funding," adding that the sums involved were "very high" and their sources unknown.
Likud's press conference will include MK Miri Regev and Deputy Minister Ofir Akunis.
Haaretz announced that the foreign funded organization "One Voice" is bankrolling the V-2015 campaign. Jeremy Bird, the Obama campaign's national field director, flew in to Israel with a team of consultants and is running a grassroots, Obama-style campaign from an office in Tel Aviv which takes up the entire ground floor of the building. V-2015 is not supporting a specific party. They are for anyone, "just not Bibi." Therefore, they believe that the foreign funding pouring into the campaign will not be subjected to Israel's campaign finance laws.
When asked whether their goal was "Anyone but Bibi," the response was, "We say 'replace the government,' it's not directed at specific individuals. There have been many years of right-wing governments during which little happened, it's time to change course and give people hope."
OneVoice is expected to merge with V15 before the March 17 election, the newspaper revealed, noting the groups have a common goal: To recruit tens of thousands of volunteers for house-to-house canvassing, knocking on anywhere between 150,000 and 1 million doors — a method that was effective in Obama's first presidential campaign, in particular.
Likud said Saturday evening that Labor and Meretz are "trying to buy governmental power with money." It said that the New Israel Fund was among the bodies involved in the campaign, and that millions were also flowing in from Europe – in "a serious breach of campaign laws that define foreign donations to political parties in Israel as a criminal offense."
'Likud in panic'
The V15 campaign reacted to the motion by saying that "Netanyahu is in a state of panic. After Likud's campaign staff accepted the fact that it has lost the ground and the streets, the party's lawyers are trying to stop the energies and buzz around Victory 2015. We bring with us innovative work plans that were learned in successful campaigns worldwide. Obama's 'enlistment' to the campaign exists only in the fevered minds of the right wingers and Likudniks."
U.S. Sen. Ted Cruz, R-Texas, and Congressman Lee Zeldin, R-NY-1, have sent a letter to Secretary of State John Kerry asking for information regarding V15, in which they stated that "given the overtly partisan nature of this particular case, we are deeply concerned by the relationship that also exists between OneVoice and the U.S. Department of State. OneVoice lists the State Department as a partner on its website. In its 2013 annual report, the CEO of OneVoice touted the organization's work 'together in partnership with the U.S. Embassy in Tel Aviv and the U.S. Consulate General in Jerusalem…made possible by two parallel U.S. Government grants.' According to a U.S. government website, OneVoice twice received grants from the State Department in 2014."
"Given the public statements by a number of Obama administration officials, including the President, that it would be "inappropriate"[ for the government of the United States to exercise any influence over elections in a foreign country including Israel, we believe this issue demands your urgent attention. There appears to be a danger that U.S. taxpayer funds are being used to directly shape the outcome of the upcoming Israeli election–and specifically to campaign against Prime Minister Netanyahu–something all would agree would be highly inappropriate."
Cruz and Zeldin demanded to know how much funding the US government has provided to OneVoice, and who approved providing such funds. They also asked if there was any knowledge from the State Department or other US government officials of the partnership with V15 prior to providing funds to OneVoice.
Following the revelations regarding V15, the Zionist Organization of America stated that "Obama's campaign team is giving advice in Israel on how to defeat Netanyahu, while Obama refuses to meet Netanyahu and hypocritically says that it is because such a meeting could be seen as interfering in the election."
Source material can be found at this site.