A passenger plane with 58 on board crashed into a river outside Taiwan's capital Taipei on Wednesday.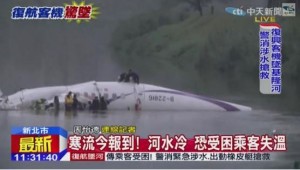 So far, 10 people have been rescued and dozens are believed trapped inside, said television reports.
The TransAsia jetliner crashed into river after hitting a bridge soon after take off in Taiwan.
A TransAsia Airways plane crash landed in a Taipei river, injuring more than 10 people, television reported on Wednesday. A total of 51 adults, 2 children, 5 crew were believed to be on board.
[youtube SwrKzkRUlaw nolink]