Conservative lawmakers are raising questions and voicing concerns about President Obama's request to use of military force against the Islamic State, otherwise known as ISIS or ISIL.
At today's Conversations with Conservatives, a Capitol Hill event organized by The Daily Signal, several members of Congress said they were uncertain about the Authorization for Use of Military Force (AUMF), which Obama formally submitted to lawmakers this week.
"We need to look at [the language] and make sure we get it right," said Rep. Jim Jordan, R-Ohio.
Jordan, a leader among conservatives and former chairman of the Republican Study Committee, emphasized the need to scrutinize the language and debate it thoroughly.
"I need to know that we have an existential threat," added Rep. Raúl Labrador, R-Idaho. "If [ISIS] is [a threat], I want to destroy it, not play footsie with them. We need to get in, take them out, and then get the hell out."
Rep. Jeff Duncan, R-S.C., predicted Obama's request wouldn't pass as written.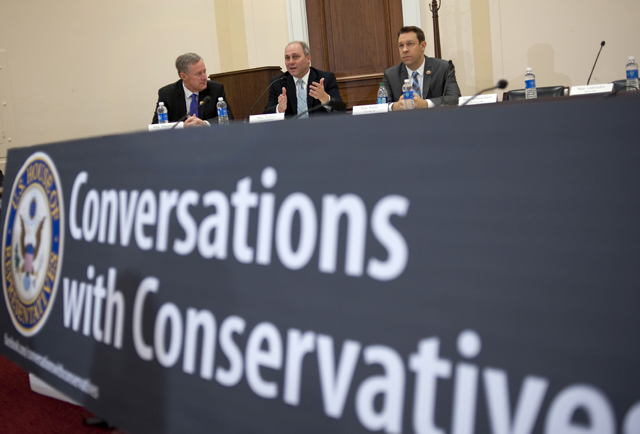 "It limits the president's ability," Duncan said. "The language leaves it geographically open."
Duncan was also critical of the AUMF from a constitutional and historical standpoint, saying he thought the measure was unconstitutional and, if passed, the result would be unsatisfactory.
"I don't want to see us micromanage another war from D.C.," he said, emphasizing that decisions need to be made by generals on the ground, not from Capitol Hill. "[Micromanaging] failed us in Vietnam and it failed us in Iraq and Afghanistan."
Meanwhile, Rep. Kurt Clawson, R-Fla., came out against the measure.
"I'm tired of wars and seeing our men and women get killed," Clawson said. "I don't want to get into another war where we have one foot in and one foot out."
Clawson also stressed that if the troops were to be deployed, he would want help from the international community.
"We have to have a coalition," Clawson said. "If we do this, we have to do it big, but we shouldn't be carrying the bulk. We need a coalition where everyone is doing their fair share."