Saint Valentine (Latin: Valentinius) (Italian: San Valentino)  is a widely recognized third-century Roman saint commemorated on February 14 and associated since the High Middle Ages with a tradition of courtly love.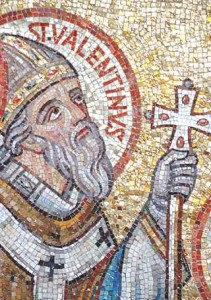 Valentine was a holy priest in Rome, who, with St. Marius and his family, assisted the martyrs in the persecution under Claudius II. He was apprehended, and sent by the emperor to the prefect of Rome, who, on finding all his promises to make him renounce his faith ineffectual, commanded him to be beaten with clubs, and afterwards, to be beheaded, which was executed on February 14, about the year 270. He was a Roman martyred for refusing to give up his Christian faith.
Under the rule of Claudius the Cruel, Rome was involved in many unpopular and bloody campaigns. The emperor had to maintain a strong army, but was having a difficult time getting soldiers to join his military leagues. Claudius believed that Roman men were unwilling to join the army because of their strong attachment to their wives and families. At first Claudius took a liking to this prisoner — until Valentinus made a strategic error: he tried to convert the Emperor,  whereupon this priest was condemned to death.
To get rid of the problem, Claudius banned all marriages and engagements in Rome. Valentine, realizing the injustice of the decree, defied Claudius and continued to perform marriages for young lovers in secret.
Legend also has it that while in jail, St. Valentine left a farewell note for the jailer's daughter, who had become his friend, and signed it "From Your Valentine." Valentine also converted 46 members of the guards to Christianity.
For his great service, Valentine was named a saint after his death.
Happy Valentine's Day!