Just how comfortable with public displays of affection are the men and women who would be president? A look at their social media accounts today is one way to find out.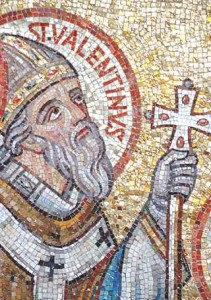 With less than 12 hours left on Valentine's Day, though, the Democrats and Republicans thinking about setting their hearts on the White House next year aren't exactly steaming up Twitter with sweet nothings for their sweethearts.
The early results give Vice President Joe Biden and Wisconsin Gov. Scott Walker the edge. Biden honored wife Jill wordlessly:
— Joe Biden (@JoeBiden) February 14, 2015
Walker, returning to Wisconsin from a trade trip to the UK, was in with three tweets celebrating his romance with wife Tonette:
Happy Valentine's Day to my sweetie Tonette! (June 1993) pic.twitter.com/psjvkYBQcW

— Scott Walker (@ScottWalker) February 14, 2015
Happy Valentine's Day to my sweetie Tonette! pic.twitter.com/3ql9K7ZlJW

— Governor Walker (@GovWalker) February 14, 2015
Tonette and I are back at the family home. I'm cleaning the bathrooms she is cleaning the kitchen. How romantic…???? pic.twitter.com/QcHsQnvrbL

— Scott Walker (@ScottWalker) February 14, 2015
However,  Sen. Rand Paul, R-Ky., doubtless earned props in some precincts for mischievously setting up a fun but fake Valentine's Day-themed Pinterest account for Democratic powerhouse Hillary Rodham Clinton.
If Hillary Clinton set up a Pinterest for Valentine's Day, we can only imagine it might look like thishttps://t.co/nNfAynLJxE

— Senator Rand Paul (@SenRandPaul) February 14, 2015
Speaking of Hillary, her husband the former president scored points by tweeting a cute video of the former first couple dancing together to "The Way You Look Tonight."
I hope you dance, especially today. pic.twitter.com/gd1e306gNT

— Bill Clinton (@billclinton) February 14, 2015
A little more calculated was the political group Ready for Hillary's use of a nostalgic glamour photo yesterday to seek signatures for a valentine to "Hillary and President Clinton":
What would we LOVE to see? Hillary as our next President! RT if you agree – and sign her card: http://t.co/dD2meA3hIH pic.twitter.com/zdt9vTgiN2

— Ready for Hillary (@ReadyForHillary) February 13, 2015
Rick Santorum, the former senator from Pennsylvania, used the valentine theme as part of a series of tweets about "Bella's Gift," the book he and wife Karen co-authored about their special-needs daughter (linking to a piece on the book by National Review Online's Kathryn Jean Lopez):
A reminder to be a Valentine for someone who is in need of one today. http://t.co/rteZr3n6nC http://t.co/qmU4dxXuBh

— Rick Santorum (@RickSantorum) February 14, 2015
Santorum later challenged other men by tweeting something more gooey about spoiling his valentine:
Roses,candy 2 eggs, toast and coffee wakened Karen this morning. Happy Valentine's Day to my coauthor in life. pic.twitter.com/3Bu2JjE0uz

— Rick Santorum (@RickSantorum) February 14, 2015
Pundits probably will argue for days over whether Biden's valentine tweet to his wife in any way makes up for his participation yesterday in this Obamacare-promoting video with a Valentine's Day hook:
All in one video:
? VP Biden
? Valentine's Day
? http://t.co/RQmoUBbpBV
? Auto-tune
? Griffin's first kiss
https://t.co/ZTlEw0enUb

— Vice President Biden (@VP) February 13, 2015
No wonder some conservatives quietly admit they already miss Mitt Romney and his wife Ann, who had this exchange in the morning:
Love you too, sweetie. RT @AnnDRomney One of my favorite pictures of my valentine. Love you to the moon and back. pic.twitter.com/aNBxh8zemo

— Mitt Romney (@MittRomney) February 14, 2015
Source material can be found at this site.