Ben Carson, the celebrated neurosurgeon who has excited many grassroots conservatives, said today that if were president he would not be an enemy of welfare programs but of "dependency" on government.
"I'm not interested in getting rid of the safety net; I'm interested in getting rid of dependency," said Carson, the lead-off prospective candidate for president to speak at the Conservative Political Action Conference, or CPAC, as it entered the second of four days just outside Washington, D.C.
"I'm interested in getting rid of dependency," @RealBenCarson said at #CPAC2015.
Carson's comment came in response to a question about how he would attract minorities as a Republican candidate should he decide to run. He said he would "tell them the truth."
Spreading a message about cultivating opportunity rather than dependency, the retired Maryland surgeon said, will attract struggling Americans, including African-Americans, to the Republican Party and not to a Democratic Party that "only wants to cultivate their votes."
Carson was greeted by standing ovations both after a brief speech and after he answered three other questions from a moderator.
Other GOP presidential hopefuls also will answer questions during their 20-minute slots today and tomorrow at CPAC, which continues through Saturday at the Gaylord Resort and Convention Center across the Potomac River from Washington in National Harbor, Md.
In his other responses, he said of the ISIS terrorist group that he would "destroy them first" and not tie the military's hands in doing so.
On the home front, Carson said he and other conservatives have to "call out" those he described as "purveyors of division, no matter where they are."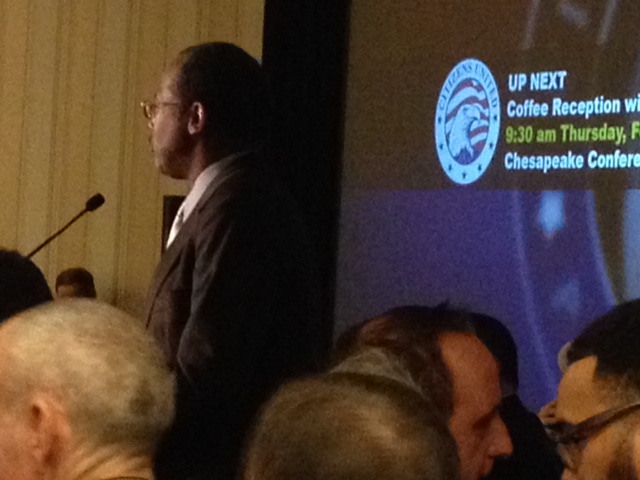 Conservatives, he said, "don't pick and choose favorites" among enterprises and interest groups.
He also said he opposes Common Core education standards because they don't represent school choice for parents.
Parents and teachers, Carson said, "don't need some central government telling them how" to set up and enforce standards of excellence.