Concord, N.H.—Wisconsin Gov. Scott Walker spoke to a crowd of Republican grassroots activists at Concord High School in New Hampshire today.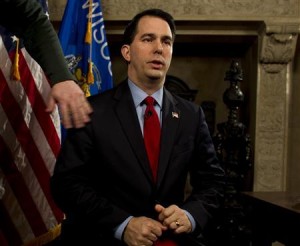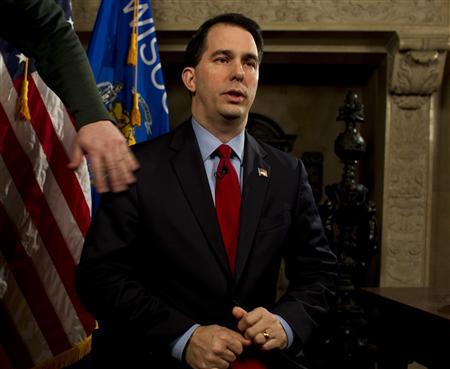 Walker, a likely presidential candidate, visited the Granite State, home of the nation's first presidential primary, to lay out a three-part platform: "growth, reform and safety."
According to Walker, economic growth doesn't occur in Washington, D.C.—a city he called "sixty-eight square miles surrounded by reality." It occurs in "cities, towns and villages all across this country" and is spurred by a low tax burden.
The federal government needs to be reformed "by taking power out of Washington and sending it back to the states," resulting in government that is "more efficient, more effective and ultimately more accountable to the hardworking taxpayers."
Walker discussed national security in terms of "safety," saying that the next president needs to confront the threats posed by terrorism and restore relationships with allies like Israel.
Walker also explained why he believes in lowering taxes—he calls it "the Kohl's curve."
Shortly after getting married, he said, he made a "critical mistake."
"I went to Kohl's… and I bought something at the price it was marked at," joked Walker.
"I call it the Kohl's Curve," @ScottWalker talks about his tax policy in New Hampshire.
Walker said that he has since been "trained" how to save money at the department store.
"I know after many years of practice, that if I'm going to go buy a shirt, I go to that rack that says it was $29.99, and now it's $19.99, and then I get the Sunday insert out with the little scratch-off and I take it up to the cash register along with my Kohl's credit card, and then I take the mailer that we get because we shop there a lot, and sometimes it's 15 or 20 percent, or if we're really lucky it's 30 percent… then we lay out the Kohl's cash there on the counter, and the next thing you know, they're paying me to buy that shirt!"
The secret of Kohl's success, said Walker, can be transferred to the federal budget.
"How does a company like Kohl's make money? They make it off of value, right? They could charge $29.99 for that shirt and a few people would buy it, or they can lower the price, broaden the value, and next thing you know, all of us are buying things at a place like that."
"I call that the Kohl's curve, because that's like your money, the taxpayer's money. I could charge you a higher rate that few of you can afford, or I could lower the rates, broaden the base, have more people participate in the economy, and that's the way you fuel the economy going forward."
Walker said that he has lowered the tax burden in Wisconsin by over two billion dollars.
Source material can be found at this site.