The United States must negotiate with Syrian President Bashar al-Assad in order to try to bring an end to the nation's four-year civil war, Secretary of State John Kerry said on CBS News' "Face the Nation" in an interview that aired today.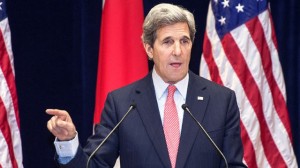 Kerry said that talks with the Assad regime would be part of a "diplomatic" solution to the crisis in Syria.
"We are working very hard with other interested parties to see if we can reignite the diplomatic outcome," Kerry said. "Why? Because everybody agrees there is no military solution; there's only a political solution. But to get the Assad regime to negotiate, we're going to have to make it clear to him that there is a determination by everybody to seek that political outcome and change his calculation about negotiating. That's underway right now."
Kerry said that with the help of our allies, there "will be increased pressure on Assad."
"And you'd be willing to negotiate with him?" asked Margaret Brennan.
"Well, we have to negotiate in the end," Kerry said. "And what we're pushing for is to get him to come and do that, and it may require that there be increased pressure on him of various kinds in order to do that. We've made it very clear to people that we are looking at increased steps that can help bring about that pressure."
According to the Associated Press, in the last four years, the Syrian civil war "has claimed over 220,000 lives, displaced a third of Syria's population, and helped plant the seeds for the rise of the Islamic State group, which now holds a third of both Syria and neighboring Iraq in its self-declared caliphate."
Kerry's remarks represent a dramatic shift from his previous comments on Assad.
In January of 2014, Kerry stated that Assad lacked the "legitimacy to govern" after his "brutal" treatment of the Syrian people.
State Department Deputy Spokesperson Marie Harf sought to clarify Kerry's comments on Twitter:
.@JohnKerry repeated long-standing policy that we need negotiated process w/regime at table – did not say we wld negotiate directly w/Assad

— Marie Harf (@marieharf) March 15, 2015
Policy remains same is clear: there's no future for Assad in Syria we say so all the time: http://t.co/9m7MdR5yOp http://t.co/FKDwLowncY

— Marie Harf (@marieharf) March 15, 2015
Here's how some reacted on Twitter:
More evidence of US bankruptcy on Syria: On 4th anniversary of uprising, Kerry says US needs talk to Assad. Remember abt changing calculus?

— Emile Hokayem (@emile_hokayem) March 15, 2015
On 4th anniversary of #Syria revolution, John #Kerry suggests negotiation with #Assad pressure to force Geneva I-type process/solution.

— Charles Lister (@Charles_Lister) March 15, 2015
#Syria state TV has quickly picked up on #US Secretary Kerry's comments on negotiating with Assad, flashing them as breaking news alert now

— Sara Hussein (@sarahussein) March 15, 2015
whether or not Kerry's remarks on Assad represent a change in policy, seems clear it's a shift in what the admin will admit publicly, no?

— Rosie Gray (@RosieGray) March 15, 2015
As predicted, the U.S. emphasis has shifted from ousting Assad to working with him: http://t.co/pK8fT4vhuv.

— Max Abrahms (@MaxAbrahms) March 15, 2015
Source material can be found at this site.