KYIV, Ukraine—For those who might have thought the Ukraine conflict was finally fading from the headlines, this week should serve as sufficient evidence to the contrary.
Renewed fighting has left the Feb. 12 cease-fire, as well as towns in eastern Ukraine, shattered, and edged the conflict closer to a full-on war between Ukraine and Russia.
This week saw the worst fighting since the cease-fire went into effect. On June 3, separatist forces launched a pre-dawn assault on Ukrainian positions in Marinka, a town on the outskirts of the separatist stronghold of Donetsk. According to various Ukrainian and separatist reports, about five Ukrainian serviceman and 16 from the separatist side died in the battle.
Despite conflicting separatist reports, Kyiv said its forces repelled the attack and still held Marinka as of Saturday. While fighting has died down in Marinka, according to Kyiv, separate incidents are still flaring up throughout the conflict area in east Ukraine.
On Friday, Ukrainian military spokesman Andriy Lysenko told reporters in Kyiv that "extremely fierce" fighting was ongoing along the 280-mile-long frontline, stretching from near Luhansk to the outskirts of Mariupol. The combined Russian-separatist forces were attacking Ukrainian positions with heavy weapons, including Grad missile systems, 120-mm mortars and 152-mm artillery, Lysenko said.
In order to defend against separatist tanks and artillery in Marinka, Ukrainian forces redeployed previously withdrawn heavy weapons. The ban on heavy weapons is a key part of the cease-fire deal, and their renewed use by both sides signals what some say is a complete breakdown of the truce.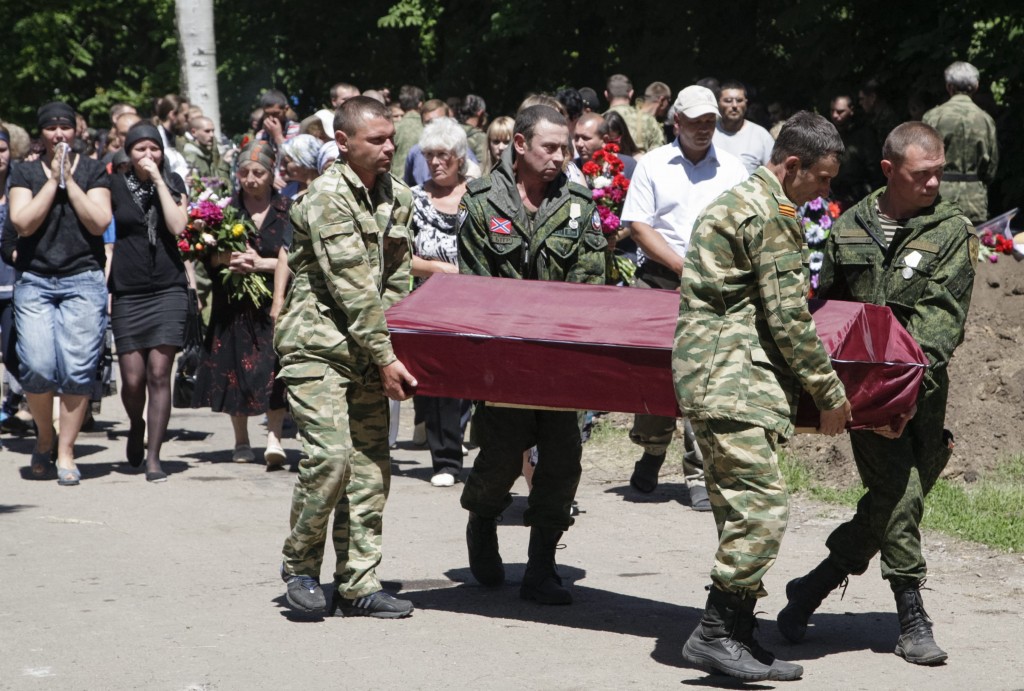 In an address to parliament on Thursday, Ukrainian President Petro Poroshenko warned: "Ukraine's military should be ready for a new offensive by the enemy, as well as a full-scale invasion along the entire border with the Russian Federation."
Poroshenko said there were 9,000 Russian soldiers on Ukrainian territory. "There is a colossal threat of a renewal of large-scale military operations from the side of the Russian-terrorist groups," he said.
The EU also warned that the attack could portend the war's escalation.
"The renewed intensive fighting is likely to create a new spiral of violence and suffering," European Commission spokeswoman Maja Kocijancic told reporters in Brussels on Thursday, according to EUBusiness.com.
In Washington, the State Department imputed Russia for this week's spike in violence. "Russia bears direct responsibility for preventing these attacks and implementing a cease-fire," State Department spokeswoman Marie Harf said.
In remarks to the United Nations Security Council on Friday, U.S. Ambassador to the U.N. Samantha Power also blamed Russia. "The consensus here, and in the international community, remains that Minsk's implementation is the only viable way out of this deadly conflict," she said.
"Yet Russia—and the separatists it trains, arms, fights alongside, and with whom it shares command and control systems in eastern Ukraine—continues to ignore this consensus, flouting the commitments it made at Minsk," Power added.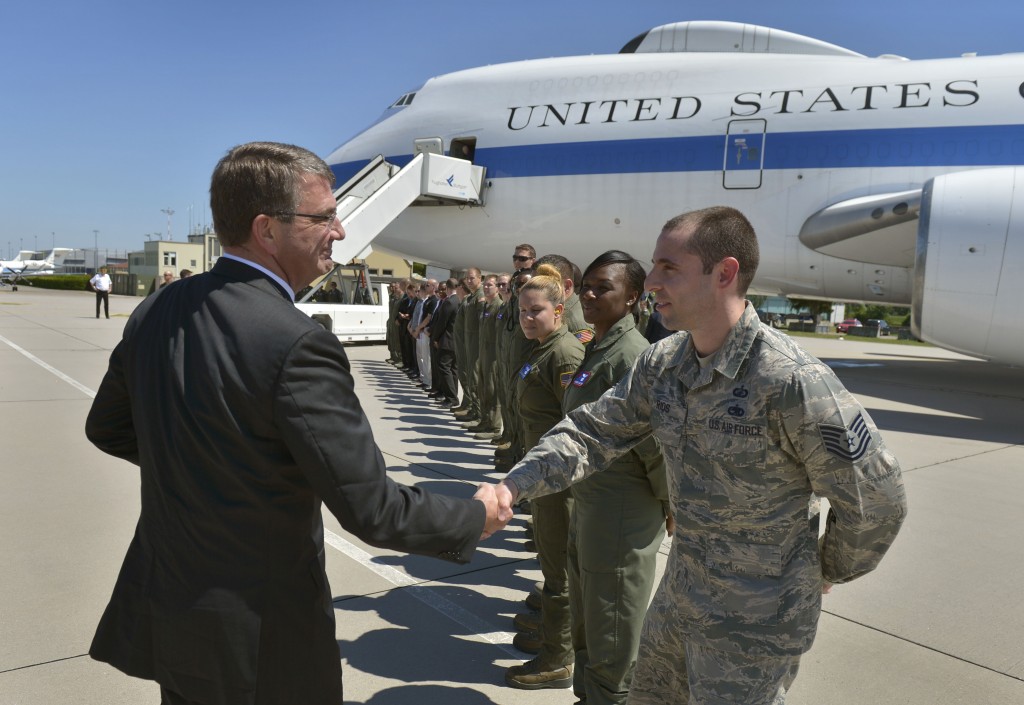 U.S. Secretary of Defense Ashton Carter convened a meeting in Stuttgart, Germany on Friday of some of America's top diplomats and military officials to develop potential U.S. responses for the White House to consider. The U.S. is concerned with not only resolving the Ukraine conflict peacefully, U.S. officials say, but also reassuring U.S. allies in the region.
Countries across the region, from Scandinavia to the Baltics, down to Poland, Bulgaria and Romania, have all beefed up their military readiness in response to what they see as a credible Russian threat to regional security.
The U.S. regional military footprint has also grown. The ongoing Operation Atlantic Resolve comprises dozens of military exercises and events across Eastern Europe. Dragoon Ride, a U.S. Army Stryker convoy from Estonia to Germany in March, drew a warm response, including thousands of people waving American flags along the highways of the post-Soviet states, highlighting regional concerns of Russian aggression.
Russian President Vladimir Putin recently approved his country's largest military budget since the Cold War, pledging $81 billion for 2015, approximately 4.2 percent of Russia's GDP and a $20 billion increase from 2014, according to the Moscow Times.
Ukraine's $5.5 billion 2015 defense budget amounts to about 5 percent of its GDP, and represents less than 7 percent of what Russia spends on its military. For cash-strapped Ukraine, struggling to root out corruption and find its financial footing after last year's revolution, the war is a financial drain, costing about $5 million to $10 million a day.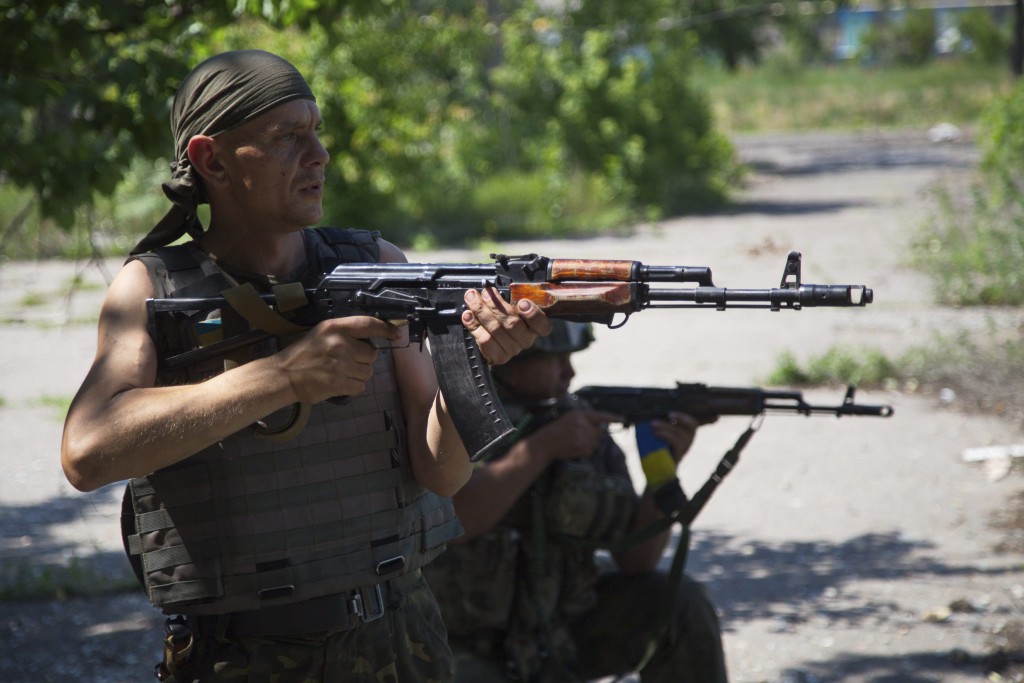 Yet in one year, Ukraine has managed to significantly bolster its armed forces. Ukraine now has a combined 50,000 troops deployed to the conflict areas, about ten times more than at this point last year. There are a total of about 250,000 active soldiers in the Ukrainian armed forces, compared with almost 800,000 in Russia.
"We have the powers to defend our land," Poroshenko said. "We've provided the minimum level of defense capability and liberated the bigger part of Donbas. We have stopped one of the strongest armies on the continent, because there are not miners and tractor drivers fighting against us, but Russian armed forces."
Putin downplayed worries about Russian aggression, attributing such concerns to fear mongering among countries looking to solicit Western aid.
"I think some countries are simply taking advantage of people's fears with regard to Russia," Putin told the Italian newspaper Il Corriere della Sera, according to a transcribed interview published on the Russian president's website.
"They just want to play the role of front-line countries that should receive some supplementary military, economic, financial or some other aid," he added.
Addressing the tensions between Russia and NATO, Putin said: "I think that only an insane person and only in a dream can imagine that Russia would suddenly attack NATO."
"Let me tell you something—there is no need to fear Russia," he added later in the interview. "The world has changed so drastically that people with some common sense cannot even imagine such a large-scale military conflict today. We have other things to think about, I assure you."