(Greece) The west made a huge blunder, they cannot hurt oil rich Russia, for one the government is one of the largest producers of oil, secondly the Russian citizens do not live in debt like Americans. They buy cars with cash, their homes and flats too, in Russia you not considered a homeowner if you have a bank loan on your house.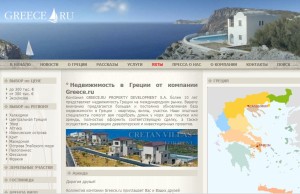 Despite the media propaganda the average Russian is not aware of any hardships due to the Sanctions on the Wests inspired revolution in Ukraine beyond the Rubble dropping in 2014 but recovering within weeks.
As wealthy Greeks contemplate a tightening of their budgets, or even fleeing Greece's economic mire altogether, many overseas customers are forming a queue to buy their properties as holiday homes in some of the most beautiful parts of the Mediterranean.  Russians are leading the way, according to local estate agents buying second home on the sea.
"Lots of Russian clients are looking because now is absolutely the best time to buy," Russian speaking agent Svetlana Kuklina from the Greece.ru estate agency told The Independent on Sunday: "Prices cannot go much lower. We're talking about very, very big savings. Some villas that were valued at €2m are now going for €1m.
She added that the demand for expensive properties has nearly doubled since last year, with the suburbs of Athens, the region of Khalkidhiki in Macedonia and the island of Crete among the most popular areas.
Russians investors lead the demand, she said, but interest is growing among investors from Bulgaria and Serbia too.
The Russians and other foreigners moving in know what they want," added Ms Kuklina. "A sea view is the most important thing. In this part of Greece, Khalkidhiki, it's very green and that appeals to them, as well."
She said the average Russian buyer was spending €250,000 to €500,000 on a "nice home" close to the sea.
Rich buyers from Russia seeking holiday homes and property investments have targeted other Mediterranean countries suffering economic hardship, notably Italy, where once again it is Russians in the lead, unaffected by sanctions and doing much better off than the average American.
As USA continues it decline and more and more on food stamps (47 million to be exact), the Russians are doing very
well. The US citizens under the rule of Obama are far worse off then Russia with sanctions from the west, that how bad Obama has been for Americans.
Part of th surge from Russia it so invest their money in bricks and mortar overseas, after the sanctions first rolled out the Ruble plummeted, but recovered weeks later, Russian remember that week last year very well, and investing over seas is a way to protect their money.
Italy's upper classes appear to be actively seeking their homes to Russians too. Across the country, 70 privately owned castles and palaces, many of which have been in old Italian families for generations, are on the market, amid stories of Italian nobility selling off paintings to pay the bills.
According to the Florence-based Lionard Luxury Real Estate, Italy's nobles are setting their sights on super-rich foreign buyers, with 80% per cent of interest coming from Russian clients.
One of the latest landmarks to fall into foreign hands is the Castello di Tavolese, a five-storey castle dating back to 1200 situated on 62 hectares of land, which belonged to the family of 13th-century aristocrat Farinata degli Uberti. It was sold for between €10m and €20m to a buyer from Moscow.