Texas law enforcement released a graphic dashcam video Tuesday showing a routine traffic stop escalate into a violent altercation between Sandra Bland and a state trooper, leading to her arrest. Bland was found hanging in her jail cell three days later.
The footage from trooper Brian Encinia's car initially shows the officer handing Bland a ticket for failing to signal a lane change. The trooper becomes agitated after Bland refuses to put out her cigarette, repeatedly ordering her to get out of the car.
"I refuse to talk to you other than to identify myself," Bland responded.
The officer began shouting at her.
"I'm going to yank you out of here … I'm going to drag you out," he yelled as they struggled in the car.
He then drew his Taser and pointed it at her, yelling, "I will light you up."
The Taser was left out of Encinia's incident report among other details of the altercation, but noted Bland was "argumentative and uncooperative."
After Bland was forced out of the car and placed in handcuffs she shouts a slew of expletives, screaming off-camera the officer "slammed" and knocked her head into the ground.
"I got epilepsy," she said along with an expletive.
"Good," the officer replied. "Good."
Bland was subsequently charged with assaulting a public servant and taken to Waller County Jail. Encinia stated in his arrest affidavit Bland was handcuffed for officer safety.
"Bland began swinging her elbows at me and then kicked my right leg in the shin. I had a pain in my right leg and suffered small cuts on my right hand," the report said.
A spokesman for the Texas Department of Public Safety denied Wednesday the 52-minute video had been doctored despite lapses in the images, blaming "technical issues" after receiving criticism on social media.
Three days following the arrest, police said they found Bland, 28, dead in her jail cell from "self-inflicted asphyxiation."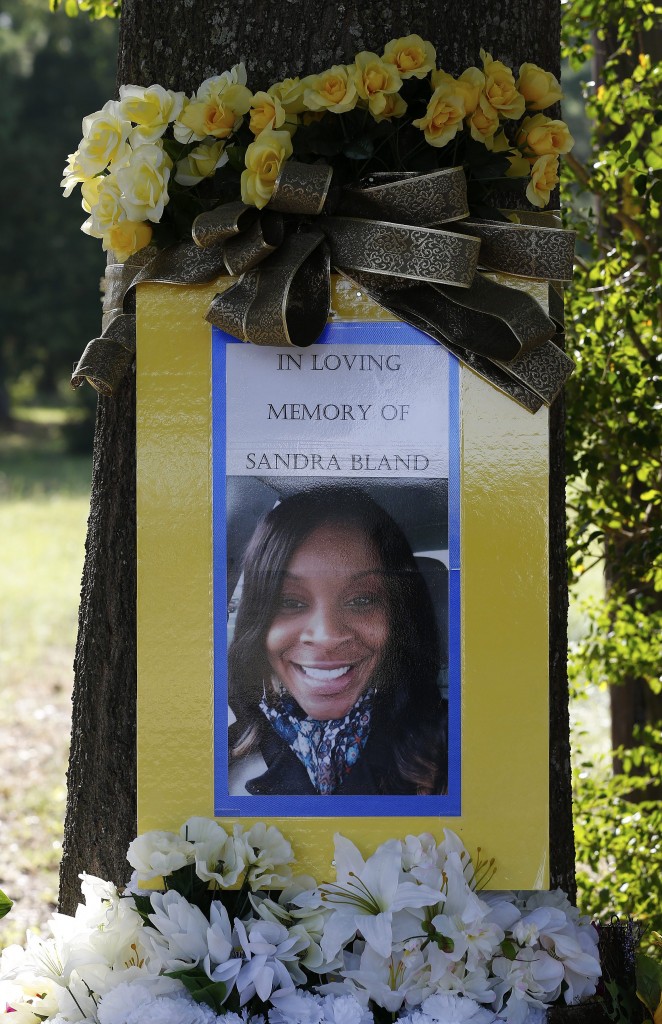 The Waller County Sheriff's Office released surveillance Monday of Bland's jail cell during the three hours before her death. The video does not show the inside of Bland's cell, only the hallway leading to the door.
It shows about a 90-minute period without activity in the hallway. About two hours before she was found dead, the video shows an officer checking in with her and Bland telling him "I'm fine."
The video then shows an officer peering into the cell, presumably seeing Bland dead and immediately grabbing another officer for help. An EMT rolls a stretcher into her cell and additional medics are shown moving in. Her body is not shown.
"The jailer looked through the window and observed Ms. Bland hanging from her privacy partition in her cell," Capt. Brian Cantrell of the Waller County Sheriff's Office told reporters. "I'd also like to reiterate that she was found in a semi-standing position with ligatures surrounding her neck. Ms. Bland was then placed on the floor for jailers to perform CPR."
Bland's death was originally filed as a suicide, but scrutiny from family and friends pushed police to reopen the case.
Waller County District Attorney Elton Mathis told reporters her death "is being treated like a murder investigation."
"This team of investigators is committed to conducting a thorough and impartial investigation. When the Texas Rangers and FBI investigation is complete, it will be turned over for review by the district attorney, who has indicated it will also be brought before a grand jury," a Department of Public Safety spokesman said.