[youtube QdmYgToR-8Q nolink]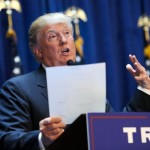 Donald Trump weighs in on which recent U.S. president was the best.
Donald Trump may be a Republican, but his favorite president of the last four is none other than Bill Clinton.
"There was a little spirit," Trump said in an interview set to air on MSNBC's Morning Joe Thursday. "Frankly, had he not met Monica, had he not met Paula, had he not met various and sundry semi-beautiful women, he would have had a much better deal going."
"Do you agree with that, Joe?" Trump added.
"I'm just not going to comment," host Joe Scarborough replied.
"He was destroyed by that," Trump added. "He was really hurt very badly by it."
Though he has long identified as a Republican, he was a Democrat as recently as 2009 and in the past Trump donated to Hillary Clinton, even inviting her and Bill to his wedding in 2005.
Would he help her win the White House by running as a third-party candidate?
He has also given money to the Democratic Senatorial Campaign Committee and Democratic Congressional Campaign Committee, as well as to Republicans.
VIDEO: Trump's Favorite President of the Last Four Presidents is Clinton

,