by
BY BI: PRAGUE: The followers of the 'We Do Not Want Islam in the Czech Republic' and the 'Bloc Against Islam' groups installed statues of the torsos of Muslim women stoned to death under sharia law, in order to warn their fellow countrymen about the inherent danger of Islam and growing threat to their nation from Muslim immigration.
Ceskenoviny  The effigies covered by white cloths tainted with colour as blood and surrounded by stones have appeared in a number of places in Prague, Hulan said. The police are dealing with the affair, but they have not come across any breach of the law, he added.
The installations include the captions such as "Pregnant after Rape" or "She was unfaithful" pointing out the alleged reasons for being stoned to death.
The statues of the women stoned to death are to warn of Islamic barbarism and the violence committed against women, Artur Fiser, spokesman for We Do Not Want Islam, told CTK.
"Islamic barbarism is infiltrating us with a growing speed, but it has not touched upon majority society," Fiser said.
Giant banner at soccer game (below) shows how Czechs feel about Islam. Posters had already appeared in soccer stadiums with the slogan "We do not want Islam in Czechia."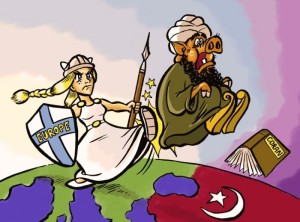 "We hope that if we open the eyes to the public before it gets here in full, people will not have to watch real stoning or read in the papers that a neighbour killed his daughter over the perverted notion of 'honour', Fiser said.
We Do Not Want Islam in the Czech Republic has staged a number of anti-Islamic events, but its followers are mainly active online, the Interior Ministry has said.
RELATED STORIES/VIDEOS:
czech-republic-two-thousand-people-come-out-to-demonstrate-against-islam-in-prague
from-czech-republic-message-to-all-members-and-supporters-of-the-islamic-state-isis
excellent-another-anti-islam-czech-republic-politician-urges-people-to-walk-dogs-and-pigs-near-mosques
theres-a-rapidly-growing-anti-islamization-movement-in-the-czech-republic-and-it-has-the-support-of-the-czech-president
czech-republic-president-refuses-to-apologize-for-his-anti-islam-remarks
anti-mesita-the-anti-islamization-movement-spreads-to-the-czech-republic
two-thirds-of-czech-citizens-are-very-fearful-of-islam-and-see-it-a-threat-to-their-country
czech-republic-muslims-try-to-have-book-on-islam-written-by-an-ex-muslim-banned
czech-republic-president-says-islam-not-radical-islam-is-to-blame-for-the-attack-on-jewish-museum-in-brussels
czech-republic-police-arrest-muslim-for-publishing-a-book-that-allegedly-spreads-racism-anti-semitism-xenophobia-and-violence
czech-republic-school-children-forced-to-learn-about-islam-from-muslim-supremacists
more-than-75-percent-of-czechs-oppose-mosque-contruction
former-czech-prime-minister-could-face-criminal-charges-for-comparing-islam-with-nazism
anti-mesita-the-anti-islamization-movement-spreads-to-the-czech-republic
czech-republic-muslims-try-to-have-book-on-islam-written-by-an-ex-muslim-banned