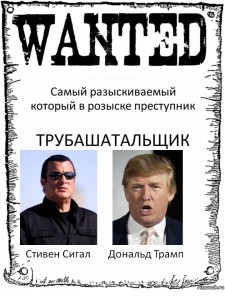 A Ukrainian website has created a comprehensive list of Ukraine's supposed 'enemies'. The eclectic list naturally includes a slew of Ukrainian and Russian statesmen and public personalities, but also, more surprisingly, nearly two dozen foreign figures, from Xi Jinping and Nicolas Sarkozy to Steven Seagal and even Donald Trump.
After quickly gaining widespread media attention in Ukraine, the highly stylized website, which had a kyiv.ua domain, was quietly taken down, but not before internet archive Wayback Machine managed to index some of its content.
Ukrainian media reported that the comprehensive list was prepared on the basis of an anonymous survey of nearly three dozen Ukrainian sociologists and political scientists, adding that the Ukrainian Security Service also participated in the selection, ostensibly in the interests of "maintaining national security."
With user convenience in mind, the 'enemies list' was divided into several sections, including "Enemies," "Traitors," "Separatists," and "Agents of the Kremlin Worldwide," and featured a 10 point "threat level" scale.
The 'Kremlin agents' list included political and social figures deemed to have taken a 'pro-Russian' stance in world affairs. The list of 21 names includes everyone from French politician Marine Le Pen, to Greek Prime Minister Alexis Tsipras, to Czech President Miloš Zeman.
In a comedic twist to the already absurd list, American billionaire and Republican presidential candidate Donald Trump came in at number 9 on the list. Trump is described as being 'Ukraine's enemy' for "believing that as US president, he would become friends with Vladimir Putin, for sympathizing with him," and for "criticizing the US's policy in relation to Ukraine."
Others to make the list of 'agents of the Kremlin' include Chinese leader Xi Jinping, for serving as "Russia's ally in the struggle with Europe and the United States," and former French President Valéry Giscard d'Estaing, for his "support of Putin's policy regarding Crimea and Ukraine." The list also includes former French President Nicolas Sarkozy and former Italian Prime Minister Silvio Berlusconi, German Linke Party MP Sahra Wagenknecht, and American and European celebrities Steven Seagal and Gérard Depardieu.
The French actor was described as a "Russian citizen with French roots, who considers himself a personal friend of Putin, supporting his pursuit of 'traditional' values, supporting the annexation of Crimea (he's planning to grow vineyards there), and condemning the EU's policy toward Russia."
Russian 'Enemies' List Topped by Two Chechens and an Abkhaz
Topping the list of the country's Russian 'Enemies' which, unsurprisingly featured nearly five dozen names, were famed Kremlin ideologist Vladislav Surkov, Chechen Republic head Ramzan Kadyrov, and Surkov deputy Inal Ardzinba. It did not get past the attention of the Ukrainian media that the list was "topped by representatives of Caucasian nationality."
Surkov, who served as the First Deputy Chief of the Russian Presidential Administration throughout the 2000s, was absurdly charged with developing "projects to destabilize Ukraine," and for "organizing the shooting of people on Maidan." Incidentally, Kiev has yet to carry out an investigation of the events of February 2014, which saw the killings of both protesters and pro-Yanukovych riot police by sniper fire. Kadyrov made the top three for his "infinite loyalty to Putin," and for his off the cuff boast last year that Chechen forces could "take Kiev in three hours flat." Ardzinba, listed at number 9, ostensibly made the list for being Surkov's assistant in Kiev's destabilization.
Also making the top ten list were Defense Minister Sergei Shoigu, Foreign Minister Sergei Lavrov, Deputy Prime Minister Dmitri Rogozin, journalist and Rossiya Segodnya head Dmitri Kiselyov, and Russian Orthodox Church Patriarch Kirill. Kirill was accused of "working to split Ukrainian society through manipulations based on the religious feelings of the Orthodox believers of Ukraine," and of using the Church's resources to "assist terrorists in Donbass." Kiselyov, meanwhile, was accused of being a "militant propagandist and provocateur," and "a key actor in the information war against Ukraine."
The Russian 'Enemies' list also included a slew of famous personalities, from 'Soviet Frank Sinatra' Joseph Kobzon (a Ukrainian by birth), actor and director Ivan Okhlobystin, political satirist Mikhail Zadornov, political talk show host Vladimir Solovyev, RT and Rossiya Segodnya editor-in-chief Margarita Simonyan, Communist Party leader Gennady Zyuganov, Liberal Democratic Party leader Vladimir Zhirinovsky, and others.
Naturally, the list also included Crimean Prosecutor Natalya Poklonskaya, whose description noted that she is "known on the internet as 'nyash-myash', connived in the annexation of Crimea," and was "one of the first to swear allegiance to the Kremlin."
The 'Separatists' section naturally included the leaders and key political and military figures of the self-proclaimed Donbass republics, while 'Traitors' included former Ukrainian President Viktor Yanukovych, former Prime Minister Mykola Azarov, former MP Oleg Tsarev, and famous blogger Anatoliy Shariy, who was accused of "impudently speaking out against Ukrainian authorities."
The page noted that the enemies of Ukraine "await a tribunal," calling on visitors to "be vigilant" and to "find and denounce enemies" in social media.
For some odd reason, President Putin himself did not make the list.