VIENNA/MUNICH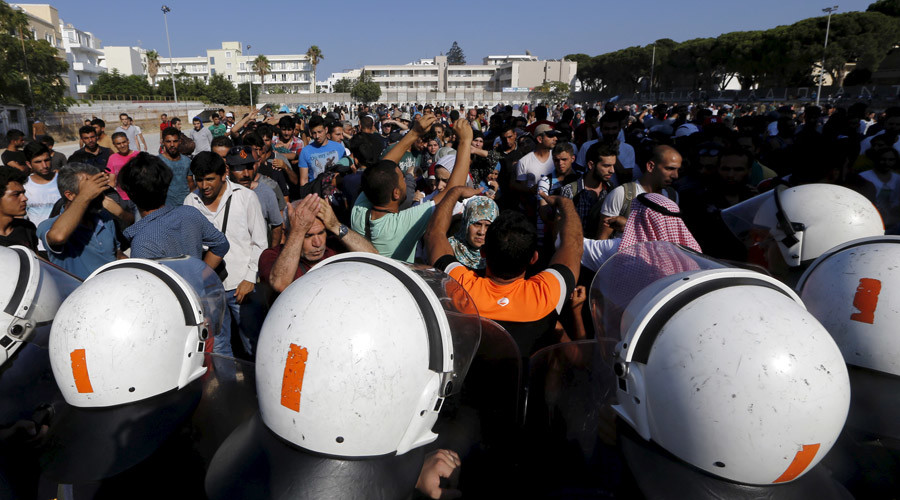 Austria said on Sunday it planned to end emergency measures that have allowed thousands of refugees stranded in Hungary into Austria and Germany since Saturday morning.
Austria had suspended its random border checks after photographs of a Syrian toddler lying dead on a Turkish beach showed Europeans the horror faced by those desperate enough to travel illegally into the heart of Europe, which is deeply divided over how to cope. It was later found the toddlers  family were not refugees at all, and a living free in Turkey for the past three years.
Vienna had agreed with Germany to waive rules requiring refugees to register an asylum claim in the first EU country they reach. Austria has decided to no longer waive the laws to register, migrants will no longer be allowed to cross through Austria.
Austrian Chancellor Werner Faymann said that decision was being revised following "intensive talks" with German Chancellor Angela Merkel and a telephone call with Hungarian Prime Minister Viktor Orban, who bitterly opposed to the waivers.
"Now we have to move step-by-step away from emergency measures toward normality."
It's getting tight," Hillenbrand told reporters at the train station.
Merkel's decision to allow the influx has caused a rift in her conservative bloc, with her Bavarian allies saying she had pushed ahead without consulting the federal state administrations dealing with the problem on the ground.
The political rift is greater across Europe, with Hungary's Orban accusing Berlin of encouraging the influx.
"As long as Austria and Germany don't say clearly that they won't take in any more migrants, several million new immigrants will come to Europe," he told Austrian broadcaster ORF.
The crisis as a defense of Europe's prosperity, identity and "Christian values" against a tide of mainly Muslim migrants. French far-right leader Marine Le Pen accused Germany of looking to lower wages and hire "slaves".
Hungary, the main entry point for migrants into Europe's borderless Schengen zone, plans to seal its southern frontier with a new, high fence by Sept. 15.
In the meanwhile an operative working for Islamic State has revealed the terror group has successfully smuggled thousands of covert Jihadists into Europe.
The Syrian operative claimed more than 4,000 covert ISIS gunmen had been smuggled into western nations – hidden amongst innocent refugees.
The ISIS smuggler, who is in his 30s with a trimmed jet-black beard, revealed the ongoing clandestine operation is a complete success.
"Just wait," he smiled.
"When rich Europe argues and tears itself apart over whether to accept 1,000, 10,000, 42,000 or 100,000 refugees, when Turkey already has 2 million, it is clear that we have a problem of perspective and identity," EU foreign policy chief Federica Mogherini told the Italian newspaper Corriere della Sera.
On the Greek island of Lesbos, about 500 Afghans protesting at lengthy identification procedures scuffled with police. A ferry took 1,744 migrants and refugees to Athens from Lesbos on Sunday and another one with 2,500 on board was expected later in the day, the coastguard said.
Some 'refugees'. Oddest refugees I have ever seen.
Burly, smartphone-clutching young men shouting their demands, confronting the police, refusing to be registered in Hungary, tearing down fences, angrily insisting on (non-existent)'rights'. Trynig to block traffic on purpose and making demands and throwing away food given too them as it not good enough.
Refugees my arse.
Want to see a REAL refugee: