The Obama administration's policy toward Syria and its more than four-year civil war is rapidly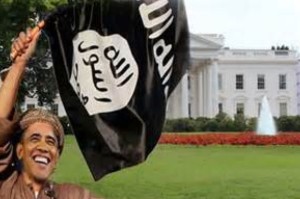 becoming a black mark on the president's legacy.
And a scathing new report by Peter Baker of The New York Times details the mind-boggling decision by the White House to refuse to accept any responsibility.
The blame for the failed US effort to train Syrian rebels to fight ISIS "should be pointed not at Mr. Obama but at those who pressed him to attempt training Syrian rebels in the first place," administration officials told Baker.
There are only "four or five" US-trained rebels left fighting in Syria after a group of 60 were ambushed in August by the Al Qaeda branch in Syria, the Nusra Front.
'The devil made me do it'
Obama's argument, according to Baker, is that "he reluctantly went along with those who said it was the way to combat the Islamic State, but that he never wanted to do it and has now has been vindicated in his original judgment."
But some people who worked in Obama's administration disagree — and they're calling him out.
"It looks like the White House would like to blame its critics for its own operational illiteracy," Frederic Hof, a former special adviser for transition in Syria under then-Secretary of State Hillary Clinton, told Business Insider over email.
"I don't think I've ever seen any other administration employ 'the devil made me do it' argument to excuse and explain its own shortcomings.
"In this case a micromanaging White House saddled [the Defense Department] with something dead on arrival due to a lopsided anti-ISIL mission (one that tried to ignore Assad) and crippling vetting requirements," Hof added, using an alternative acronym for the Islamic State, or ISIS.
Ryan Crocker, a retired career diplomat who was an ambassador to Afghanistan under Obama, echoed Hof's sentiments.
"How un-presidential that sounds — 'We didn't want to do it. We thought it was unsound, but you made us do it,'" Crocker told The Times. "It's just indicative of their whole approach to Syria, which is not to have a policy. This is the worst thing they could say."