According to the Emirates News Agency (WAM), Turkish President Recep Tayyip Erdogan has raised eyebrows around the world capitals by justifying ISIS terrorists who brought down a Russian passenger plane in Egypt's Sinai Peninsula early saturday, killing all 224 people aboard.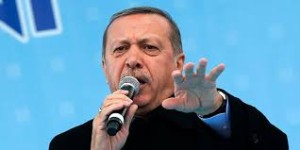 "The Russian airplanes are targeting Mujahidin in Syria and partisans fighting to topple Syrian dictator Assad. In Syria, Moscow seeks to tip the balance on the ground against our brethren. Consequently, there should be no surprise if Islamic State take revenge," Dubai TV cited the Turkish official as saying.
Having been isolated internationally for his obstinate support for hard-line Islamist rebels in Syria, the 61-year-old President Erdo?an expressed his refusal to condemn Ansar Bait al-Maqdis—infamous Sinai-based jihadist group whose members swore allegiance to the Islamic State of Iraq and Syria (ISIS) — for targeting Kogalymavia Flight 9268, killing 217 passengers including 17 children.
"How can I condemn the Islamic State for shooting down a Russian plane as its passengers were returning from a happy vacation in a time when our co-religionists in Syria are bombed by Putin's fighter jets? …it is the natural outcome of Moscow's actions in Syria and the support for Assad," said
Erdo?an, adding, Turkey will continue to advocate the outlawed Muslim Brotherhood and ousted ex-President Morsi in Egypt.
Soon we will see Turkey's drift from western style democracy into a Caliphate system. As pro-Justice and Development Party (AKP) columnist said that Turkish President Recep Tayyip Erdo?an would be the 'caliph,' or leader of Sunni Muslims in the world, under the much-anticipated presidential system.
"If Tayyip Erdo?an shifts to a presidential system, he will probably assign advisors from the regions under the caliphate and open representative agencies of all Islam Union nations in that 1,005-room [the presidential palace] in Be?tepe," said Dilipak speaking at a conference organized by AKP Toronto Election Coordination Center in Canada.
The Muslim Union will be a confederacy of ten-nations is found in four major passages of Scripture and is a determinative issue in any system of prophetic interpretation and are the key to the total prophetic outlook regarding this emerging Antichrist confederacy of different states mentioned in at least four major Scripture passages (Dan 2:31-35, 40-45; 7:7-8, 19-24; Rev 13:1-2; 17:3, 7, 12-16).
These passages either directly or by implication prophesy a ten-kingdom confederation, which will be an important aspect of the end-time political situation.
What we see here is the rise of Erdogan as Caliph to become the spiritual head of the Sunni Muslim world in which its declared that such confederacy for the Caliphate will be established in Istanbul, Turkey as the center for all these different states.
the new emerging Mediterranean confederacy will be the "bruised head," the arising "sick man of Europe," the "wounded beast" that is coming back to life under the Turkish Neo-Ottoman revival. It constitutes the Revival of the Roman Empire as well as the Grecian, Babylonian, Medo-Persian and Egyptian, altogether.
Christ said that Pergamum (Turkey) and not Rome, will be "the seat of Satan (Antichrist)":
"To the angel of the church in Pergamum write: These are the words of him who has the sharp, double-edged sword. I know where you live—where Satan has his throne.(Revelation 2:12-13)"