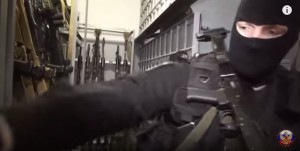 While the Obama White House originally attempted to downplay any links to ISIS in relation to the recent Russian airline disaster that took place shortly after Metrojet Flight 9268 took off from Egypt last week on its way back to Russia, killing everyone on board.  In the first days British officials have quietly suggested foul play while U.S. officials were noticeably tight-lipped. Now some within American intelligence are voicing very similar thoughts to their British counterparts, despite the Obama White House's apparent desire that no official statement on the matter be made.
As for Russia's Vladimir Putin, he is said to be at this very moment reviewing a myriad of counter-measure options – all of them intending to "unleash hell" in the form of powerful military-based retribution the likes of which ISIS militants have yet to have faced.
Russia ordered the deployment of soldiers from his fearsome Spetsnaz unit to root out and eliminate packs of fleeing jihadis.
A battalion of elite paratroopers also ghosted into the war-torn country this week as Putin ramps up his assault on the Islamist fanatics and rebel forces fighting to topple dictator Bashar al-Assad.
The deployment of the Spetsnaz – the elite of the elite in Russia's army who have to undergo a gruelling training programme to earn their stripes – is the latest example of the megalomaniac leader's ruthless determination to shore up the rule of his close ally.
 It is especially significant because many of the men have a deep hatred of jihadis from their time fighting in Chechnya's bloody civil war, when Islamist fanatics battling for independence carried out frequent atrocities against Russian citizens.
Amongst the world's most efficient killers, they will now be tasked with mercilessly hunting down and slaying ISIS fighters and are also expected to play a role rooting out terrorist strongholds to be targeted by Russian bombers.
The move comes after it emerged that Putin is set to send 150,000 troops to Syria to wipe out the evil hate group once and for all.
His jets have waged a merciless bombing campaign against the jihadis in recent weeks, blitzing more than 50 facilities including a key command centre and a suicide belt factory.
A military source told the Mirror: "They are extremely aggressive and highly trained.
"They are there to mop up after air strikes, call in air strikes, go on extremely covert missions against rebels and ultimately wipe them out.
"And they will not be as accountable as British or US special forces. They are there for one reason, to wipe out anyone threatening Assad. By any means. And by doing that they will be consolidating Russia's position on the Med and in the Middle East."
[youtube mLEch3Tk_-4 nolink]