The last time the German people where discontent Hitler cam into power, today Hitler II could come to power if European leaders are not careful.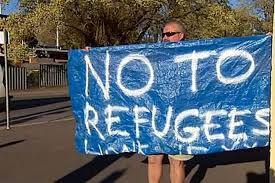 Seeing the refugee crisis in Europe play out,  is like watching history repeat itself. the very same headlines from the 1920's and 30's (unemployment) (foreigners stealing German jobs) (German people discontent) (political unrest) the very same conditions back then that brought Adolf Hitler to the chancellery are the very same conditions that will bring Hitler II to power.. just keep watching.. it's going to get very interesting from here on out.
Austrians too are increasingly concerned over the refugee influx into the country, latest opinion polls show.
According to a new survey, 60 percent of Austrians say they are worried, and even scared, by the continuing arrival of huge numbers of refugees and migrants.
In a poll by Unique Research, 35 percent of respondents said they wanted the government to stop accepting any more refugees.
Sixteen percent were in favor of Freedom Party leader Heinz Christian Strache's solutions to the crisis, which include constructing border fences anywhere where refugees and illegal migrants are trying to enter Austria.
Strache has been vocal in his criticism of the government's approach to the crisis, saying that Austria had become "almost a Banana republic" with the government providing a "catering service" for passing illegal migrants.
In a major policy reversal for the Austrian government, the Interior Ministry and police have begun to put in place temporary measures consisting of rolls of razor wire at major refugee border crossings, according to a report in the Kleine Zeitung newspaper.
As police try to control the massive influx of people seeking to cross into Austria, they were overwhelmed with the numbers. A police spokesman said that "the embankment was secured with help from rolls of barbed wire."
Previously, Austrian chancellor Werner Faymann had criticised neighbouring Hungary's fences, saying that Austria's own "technical measures" would be different.
The mayor of Graz, Siegfried Nagl of the centre-right People's Party, suggested that refugees should be welcome, but only if they are with women or children.
For families of women and children we have a place, but the single men who want to come for help, we must make it clear to them that here, there is no capacity."
When asked if this policy might be illegal under international law, he went on to tell a press conference "on a ship that is in distress, it's women and children first to be saved, not the men".
Austrian activists who took part in the "refugee convoy" and drove cars into Hungary to pick up refugees and help them reach Austria and Germany could face criminal charges of people smuggling, according to a report in Der Standard newspaper.