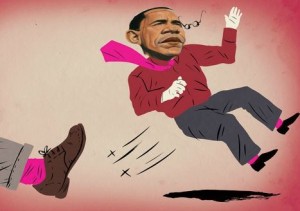 Obama has gotten away with a growing number of scandals and misconduct that other Presidents would not have even dreamed of. One Republican group has had more than enough of his antics and is organizing efforts to impeach him. On Saturday, the South Dakota Republican Party passed a resolution to impeach Obama at their convention.
Delegates voted 191-176 in favor of the resolution, which states that the President has, "violated his oath of office in numerous ways". That is almost an understatement at this point.
The resolution states three clear instances which really have South Dakota Republicans ticked off; namely, the release of five high-ranking Taliban terrorists in exchange for the traitor Bowe Berghdal, the 'if you like your insurance, you can keep your insurance' lie of the century, and recent EPA regulations on power plants.
Though most clearly support the resolution to impeach Obama, there are some South Dakota residents who disagree. Delegate David Wheeler of Beadle County stated:
"I believe we should not use the power of impeachment for political purposes. By doing this, we would look petty, like we can't achieve our political goals through the political process."
South Dakota's only Representative in the House does not seem very keen to the idea of impeachment. Kristi Noem released a statement via her spokesperson:
"The congresswoman currently believes the best way for Congress to hold the president accountable is to continue aggressive committee oversight and investigations into the administration's actions like the ongoing VA scandal, the targeting of conservative groups by the IRS, Benghazi, and the recent Taliban prisoner exchange."
Noem is the only person who could push the resolution through to Congress and if she was doing her job, she would listen to the voices of the people who elected her and take their resolution to impeach Obama seriously.
There is a bigger issue which impedes the process of impeaching President Obama, though. If a bill were introduced by Congress, it would have to pass through the Senate with a two-thirds majority vote and it will be a cold day in Hell before Obama's cronies in the Senate let that happen.
Obama has two more impeachable offences just this week:
Obama got hit twice this week from Judges, one court saying he cannot do Amnesty alone and another Judge telling him to stop spying on Americans.
Judge Richard Leon of the U.S. District Court for the District of Columbia asserts that the current high-tech spy program "violates the Constitution" and said he believes "the loss of constitutional freedoms for even one day is a significant harm."
"This court simply cannot, and will not, allow the government to trump the Constitution merely because it suits the exigencies of the moment,'' Leon wrote in his 43-page decision..
A second hit by the courts:
A ruling by the 5th Circuit Court of Appeals punctures Mr. Obama's immigration plans and is the latest in a series of major court rulings putting limits on the president's claims of expansive executive powers to enact his agenda without having to get congressional buy-in.
They struck down his deportation amnesty, in a ruling late Monday that reaffirmed the president must carry out laws and doesn't have blanket powers to waive them.
This isn't the first group to call for Obama's impeachment, but let's cross our fingers that these guys are actually successful in their efforts.
See PETER PATONS List of Obama's Impeachable offenses here>>
File Articles of Impeachment against Obama by Peter Paton