(Paris: Friday the 13th) As many as 60 people were killed in twin Paris attacks Friday in a coordinated attack by Muslim terrorist with numerous Muslims terrorist  seizing the city while screaming Allahu Akbar .At the same time, there was a report that hostages had been taken at Paris Bataclan concert hall by Muslims, according to police. Armed Muslim terrorist are holding people hostage, this will be the future norm of Europe, it is expect as an end result to uncontrolled immigration.  Conservatives have been warning this would happen while the left ignored the warnings and kept trying to tell us Islam is peace while opening the doors to Islamic immigration..
The attacks involved a shootout in a Paris restaurant with Automatic weapons and an explosion in a bar near a Paris stadium with the shooters chanting Allahu Akbar (Arabic for God is great). Armed terrorist have Kalashnikovs and grenades and used them to attack Parisians across French capital.
Sky News, the BBC and AFP all reported at least 60 dead, with Sky quoting a French television  station.
A woman who said she was at the restaurant told France 24 television that diners fell to the floor when gunshots were directed at the restaurant's window. She told France 24 that a woman lying next to her had a fatal injury.
Also late Friday, two explosions were heard outside the Stade de France stadium north of Paris during a France-Germany friendly football match.
BFM television says there were several dead in the restaurant shooting in the 10th arrondissement of the capital. Two police officials confirmed the shooting but had no information about casualties.
One of the police officials said there was a separate explosion near the Stade de France north of Paris. Islamic terrorist have taken 60 hostages Twitter reported.
Il y aurait environ 60 personnes prises en otage au Bataclan selon le reporter de Fr24 #Paris

— Johanne Montay (@JohanneMontay) November 13, 2015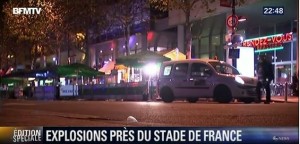 An Associated Press reporter in the stadium Friday night heard two explosions loud enough to penetrate the sounds of cheering fans. Sirens were immediately heard, and a helicopter was circling overhead.
The attack comes as France has heightened security measures ahead of a major global climate conference that starts in two weeks, out of fear of violent protests and potential Islamic terrorist attacks, also ISIS said is send over 4,000 solders with the migrants flooding Europe.
France has been on edge since deadly attacks by Islamic extremists in January on satirical newspaper Charlie Hebdo and a kosher grocery that left 60 dead, including the three attackers.
The restaurant targeted Friday, Le Carillon, is in the same general neighborhood as the Charlie Hebdo offices.
The country has seen several smaller-scale attacks or attempts since, including an incident on a high-speed train in August in which American travelers thwarted a heavily armed Islamic radical trying to attack passengers.
[youtube PdszHXn_fHY nolink]
UPDATE:
There are new reports of a third attack of Arab men in the mall with Kalashnikovs shooting at people while the police were all focused on the other two terrorist attacks there is currently no security present.