The mastermind of the Paris massacres has bragged of travelling across Europe at will to plot murder and mayhem.
Despite being on wanted lists, Abdelhamid Abaaoud has shuttled between Syria and Europe, exploiting the migrant crisis on EU borders.
The 27-year-old has been able to plan two atrocities and brainwash hundreds of young men to join Islamic State, including his 13-year-old brother.
And he recruited two brothers he had known since childhood to carry out Friday's murders of 129 people. Abaaoud told an IS propaganda magazine he was arrested in Europe in January preparing a mission to kill civilians and behead policemen. Incredibly, he claims he was not detained.
'My name and picture were all over the news yet I was able to stay in their homeland, plan operations against them and leave safely when doing so became necessary,' he said. His taunts emerged as:
George Osborne warned of deadly cyber-attacks on planes and hospitals;
British police revealed they were tracking 3,000 suspects and arresting them at the rate of one a day;
They said seven plots have been stopped over the past 12 months;
David Cameron likened Islamic State to the Nazis and called for the Blitz spirit;
Francois Hollande warned European border controls must be tightened.
A Belgian of Moroccan origin, Abaaoud has been named by security services in France and Belgium as the man behind the Paris attacks.
In IS propaganda videos, he styles himself as an executioner and is seen amid piles of corpses.
The brothers he recruited – Brahim and Salah Abdeslam – took part in the cafe and restaurant attacks on Friday night.
Brahim, 31, blew himself up in the Comptoir Voltaire bar while Salah, 26, is the subject of an international manhunt. He was stopped by police on the Belgian border but not detained.
The fanatics grew up in the now notorious Molenbeek district of Brussels, a hotbed of radical Islam.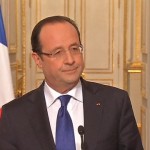 Hollande calls for rapid implementation of border controls:
Europe will see a return to barbed wire fences between countries unless it regains control of its borders, Francois Hollande warned last night.
The French president called for tough controls on migrants entering the EU after it emerged that at least one of the terrorists involved in Friday's Paris attacks was posing as a refugee.
Mr Hollande also called for 'coordinated and systematic checks' on people passing between EU countries in what would amount to the suspension of free movement rules.
'If Europe doesn't control its external borders, it is the return of national borders of walls and barbed wire as we've seen today,' he said. 'This would mean the dismantling of the European Union.'