By KATIE GLUECK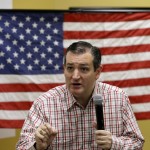 He has more cash than any other Republican candidate. He is organized in every county in the first four voting states. And he has served up one strong debate performance after another.
Now, not three months from primary season, rivals concede they have begun to fear Ted Cruz has an increasingly clear path to the Republican nomination.
"Anybody who thinks differently," said an operative with a rival 2016 campaign, "is lying to you."
The 2016 field's reluctantly bullish outlook on Cruz marks a dramatic about-face for Republicans weighing the divisive senator's odds. For months, Cruz was considered a long shot at best — a hard-line conservative with a niche audience of angry evangelicals, mired in the middle of the polls and, anyway, overshadowed by Donald Trump. Allies of and operatives on campaigns as varied as Jeb Bush's and Mike Huckabee's dismissed the Texas senator's ability to court enough supporters to defeat a more mainstream Republican.
No longer.
The same Republican rivals who relegated Cruz to a second tier in discussions this past summer now see this insurgent firebrand as the candidate who benefited most from Scott Walker's exit and the one who stands to gain should Trump or Ben Carson decline. Indeed, Cruz is seen by most of his competition as one of the few likely to still be standing in March
"He's the longer-term threat," said Fergus Cullen, former chairman of the New Hampshire GOP and a Republican who does not support Cruz. "I suspect once Trump goes down, people like me will have Cruz to deal with."
During the bulk of the pre-primary season, Cruz languished in the polls behind Trump and Carson, two candidates who appealed to voters furious with Washington. This was the bloc Cruz had been expected to dominate. Deprived of oxygen, Cruz largely faded from the Republican presidential spotlight over the summer weeks.
Saddled with a lower profile, Cruz focused on fundraising and building deep organizations. Instead of living in Iowa all of August, he embarked on a bus trip through the South, a move that surprised other Republicans at the time but allowed him to lay the groundwork for mounting a turnout operation across a region where many states will vote early this cycle, some as early as March 1. Cruz, his eyes on the delegate count, even developed infrastructure to compete in the primaries and caucuses in the U.S. territories, dispatching a representative to places as far-flung as Guam and American Samoa.
Cruz also cleaned up as Walker broke down, said Tom Rath, a New Hampshire Republican who is aligned with Ohio Gov. John Kasich. Even though many of Walker's more high-profile endorsers and donors went to Sen. Marco Rubio, his departure opened up a slice of the conservative vote that now inclines more toward Cruz.
All of this laid the groundwork for a strong autumn. Cruz ramped up his public activity in the early states, particularly in Iowa with a high-profile religious liberty rally, an event he replicated Saturday in South Carolina. He rolled out the endorsements he had been quietly seeking for months, and his poll numbers and his cash flow ticked up in tandem. When he offered a blistering critique of the media at the CNBC debate in Boulder, Colorado, late last month, the tide turned.
"He's done really well on the debate stage, raised a whole bunch of money, his campaign has done a good job organizing, and he does have these super PACs — they don't seem very active, but at least they have money in the bank," said a source working for the rival campaign, referencing the cluster of super PACs backing Cruz that have amassed tens of millions of dollars.
Now, Cruz enters a crucial times as he opened with an important endorsement from Iowa Rep. Steve King, among the most sought-after conservative names in the state. And on Friday, the 2016 field returns to Iowa for a cattle call hosted by prominent social conservative Bob Vander Plaats, who too will offer a coveted endorsement soon afterward. Vander Plaats' support, should Cruz secure it, could be pivotal for the candidate, who has worked for months to emerge as the consensus choice of evangelical conservatives.
Carson represents Cruz's biggest obstacle to that end, but in Iowa, Cruz has already lined up a number of well-known conservative activists and is working toward engaging pastors on his behalf in all of the state's 99 counties.
"He spent much of the early season building organizations in key states, and so there was some hit on him initially, that, 'He's not here enough, we don't see him enough,'" Vander Plaats said, discussing Cruz's strategy. "What he was doing is putting up, nationally, an infrastructure to be successful long term. Add to that the cash on hand … and the most recent debate performance. It seems more and more people are warming to a Ted Cruz candidacy."
The week will also bring new Cruz ads to the Iowa airwaves — some using airtime bought by one of his affiliated super PACs and others by the campaign itself. All of them will be used to reach the evangelicals who appear eager to reward a conservative outsider.
Certainly, Cruz still lags Trump and Carson. But friends and foes alike say Cruz is the candidate best positioned to benefit should either of those poll leaders stumble. He has refused to attack the candidates and in fact invited Trump to co-headline a rally opposing the Iran nuclear deal. Thanks to a reputation built by being a thorn in the side of GOP leadership, he has managed to create an image of a true outsider with an insider's understanding of policy.
"People are increasingly saying he has one of the better potential paths" to the nomination, said a source from another rival campaign. "There's lots of people in D.C. who shudder at the prospect of Cruz being the nominee. He's ruffled so many feathers in town, there's a healthy dislike of him in the institutional operative class. … He wears that as a badge of honor, and he should. It helps him project the outsider image even though he's a sitting U.S. senator."
Since last week's Republican debate, GOP oddsmakers are increasingly talking up the possibility of a Cruz-Rubio primary fight, a contest that would see two young Cuban-Americans running for the nomination of a party historically led by older white men. Indeed, this could be the outsider vs. insider, conservative vs. establishment faceoff that so many on the right have been angling for.
"They appear," said Doug Gross, an Iowa Republican who sees Cruz as unelectable, "to be the two biggest talents in the party."
Indeed, Cruz and Rubio are on a collision course. They argued last week over their respective records on immigration reform as Rubio's campaign sought to cast doubts on Cruz's conservative bona fides while Cruz dismissed Rubio's characterization of his position as "laughingly, blazingly, on its face false."
Still, as Republicans working for other candidates acknowledge Cruz is gaining steam, rivals argue his nomination would give the White House to the Democrats.
"I don't think he can win a general election. I think he would get beat really bad," said the first source from another campaign. "But I think he can win the nomination of the Republican Party."