Due to Islamic terrorism entering a Southern California theme parks will now include metal detectors, with officials at Disneyland and Universal Studios Hollywood confirming they are using the devices at their entrances.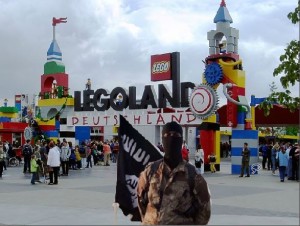 "We have begun testing metal detection at our theme park," according to a statement from Universal Studios Hollywood. "We want our guests to feel safe when they come here. We've long used metal detection for special events, such as Halloween Horror Nights. This test is a natural progression for us as we study best practices in today's world."
At Disneyland, guests will be randomly selected to go through metal detectors as part of the new safety protocols, which also include the cessation of toy gun sales and a ban on costumes for patrons 14 and older.
"We continually review our comprehensive approach to security and are implementing additional security measures, as appropriate," said Suzi Brown, a spokeswoman for Disneyland.
After guests have their bags checked by security, some will be randomly chosen to go through portable metal detectors, much like the ones used at major sporting events, an official said.
The theme park has beefed up the number of uniformed police officers outside the company's parks in recent weeks. Officers are also increasing the use of "vapor wake dogs" that are specially trained to detect residue from explosives.
Toy guns will no longer be sold in Disney theme parks and hotels, but they can still be bought at Disney's outlying retail stores and online. Toy guns won't be allowed in the parks either.
Guests 13 and younger may still wear a costume to the park but adults cannot, Muslim adult women are exempt from this rule and can continue to wear Muslim costumes or hajibs.
Even Officials at SeaWorld San Diego said they are also stepping up security during the holiday season, but would not provide specifics.
"The safety of our guests and team members along with the welfare of our animals have always been our top priority," according to SeaWorld San Diego.
"Like other major attractions and venues, we continually evaluate our existing comprehensive security plans. We are enhancing security measures at all our parks for the busy holiday season, however, we do not comment on the details of our security measures in order to maintain their effectiveness."
Leidy Arevalo, a spokeswoman for Knott's Berry Farm, said the theme park will issue a statement later today.
Concerns about violent Muslims at crowded public venues and  following the Islamic terrorist attacks in Paris and San Bernardino by Muslims has theme parks concerned.
The Paris Muslim attackers targeted a concert hall, soccer stadium and cafe, while the San Bernardino Muslims attacked occurred during a holiday party at a treatment facility for people with developmental disabilities.