(RT)
 The EU is deliberately bringing in as much immigration into Europe as possible in an effort to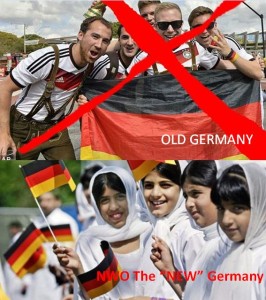 'divide and conquer' the original inhabitants of Europe, political commentator David Noakes told RT.
Belgium has also joined the ranks of countries plagued by scandals over the EU immigration crisis. The country's junior minister for immigration has been under fire for a controversial comment he made on asylum seekers, saying that if they pay thousands of euros to smugglers to get to the EU they have enough money to pay for hotel rooms. The comment was slammed by human rights activists, and on social media. It was labeled cynical and completely off topic.
RT: How do controversial remarks like this one help solve the immigration problem?
David Noakes: The EU believes in 'divide and conquer' so it's deliberately sucking in as much immigration into Europe as it possibly can with the idea of wiping out, cleansing the nations in Europe so that the number of immigrants exceeds the number of the original population. In England, according to the Office for National Statistics, that will now happen in less than 10 years. The English will be a minority in less than 10 years in their own nation. So it's a huge success for the EU to be moving aside the nations that used to live in Europe.
RT: The comment has been slammed, but it is true that many immigrants pay thousands of euros to reach the EU. So doesn't the Belgian official have a point here?
DN: A small percentage do. We are probably looking at 10 percent that have that kind of money. It's not really a fair comment to make.
 RT: Let's focus on Germany where the army's been deployed to build a camp for asylum seekers. What does this tell us about the scale of the immigration problem?
DN: We have problems in England simply because there are probably 40 million immigrants in England and the government won't admit that, but there are 22 British towns now including London where the English are a minority. London is only 40 percent English, but there are towns like Bradford, that are only 10 percent English. It's happening in Germany and France but on much less a scale than in England. So yes, they do need the army to build camps, but it's European policy that's causing the problem.
RT: Critics say the move is unconstitutional as the army's only allowed to be deployed in case of an extreme defensive situation. So why did the government have to resort to the help of the military here?
DN: Simply because European policy is to bring millions of immigrants into every country and that is why they had to use the army, because the army is the only organization big enough to build something that quick for that many people.
The statements, views and opinions expressed in this column are solely those of the author and do not necessarily represent those of RT.