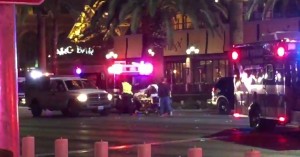 More than 20 people are reported to have fallen victim to a major accident near the luxurious Paris Hotel in Las Vegas, Nevada. Conflicting reports are coming from the scene, which has been cordoned off by police.
The incident took place on Las Vegas Boulevard in front of the Paris Hotel & Casino and Planet Hollywood, local NBC affiliate KSNV News 3 reported.
UPDATE: Police sources telling me more than 20 casualties after a vehicle drove up onto the sidewalk near @ParisVegas #TheStrip @News3LV

— Gerard Ramalho (@GerardNews3LV) December 21, 2015
Media reports immediately appeared claiming there were more than 20 victims. However, it was not immediately clear if the victims were dead or alive, or in what condition. Local NBC reporter Gerard Ramalho cited police sources as saying that a vehicle had driven up onto a sidewalk and into a large group of people.
The driver was reportedly detained by police, Jacqui Heinrich from KTNV Channel 13 Action News cited police sources as saying.
Witnesses told the channel that the driver was allegedly a woman who had a child in the vehicle. Reports are saying that she tried to flee the scene, but was detained by police and is currently undergoing sobriety test.
U/D: Unified Command now advising there is 33 patients from the auto vs crowd incident #lasvegas #breakingnews

— Landon Jensen (@LJensen911) December 21, 2015
Multiple ambulances rushed to the scene and the street is now illuminated by emergency lights. At least 33 people have been taken to the hospital, according to unconfirmed reports.
My police source saying police have apprehended the driver who hit people on the strip– working to get details on reports of shooting

— Jacqui Heinrich (@JacquiHeinrich) December 21, 2015