This is what happens when you let thousands upon thousands of people who follow a religion that hates you and teaches that you are nothing more than chattel into your country. Doing something like this is not "kind," "diverse," or "inclusive." It is stupid and suicidal. If you think this New Year's Eve was bad, one can only wonder what next year's will be like. From the Daily Mail: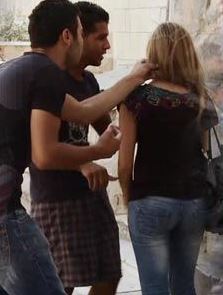 German police are hunting for a group of up to a 1,000 men 'of Arab and North African origin' who are accused of sexually assaulting numerous women and causing trouble at Cologne's main station.
Police described the series of sexual assaults against women in Cologne on New Year's Eve as 'a completely new dimension of crime.'
…
One of the victims, named only as 'Katja L', gave a harrowing testimony of her ordeal.
'When we came out of the station, we were very surprised by the group that met us there'. She said the group was 'exclusively young foreign men,' she told Der Express. 
'We then walked through this group of men. There was an alley through [the men] which we walked through.' 
She described the moment she 'felt a hand on my buttocks, then on my breasts, in the end'.
'I was groped everywhere. It was a nightmare. Although we shouted and beat them, the guys did not stop. I was desperate and think I was touched around 100 times in the 200 meters,' she said.
'Fortunately I wore a jacket and trousers. A skirt would probably have been torn away from me'.
Around 60 complaints have been made to the police in Cologne after this group of Muslim attacked revellers in the city centre in a brutal and "completely unheard of" way, Wolfgang Albers, Chief of Police in the Rhineland city said at a press conference on Monday afternoon. –
Another eyewitness tells of how the culprits targeted his partner and 15-year-old daughter. "The attackers grabbed her and my partner's breasts and groped them between their legs," he said.
"They were trying to hug us, kiss us. One man stole my friend's bag," another woman told the BBC, adding that the men tried to force her and her friend into a "private taxi" and that they felt their lives were threatened.
"The men surrounded us and started to grab our behinds and touch our crotches," another woman told CNN, adding that she ran to police fearing for her life but they were understaffed and unable to help.
German police have previously been ordered to cover-up rapes and other crimes being committed by Muslim migrants so as not to "legitimize" critics of mass immigration.
Police in other European countries such as Finland have also been ordered by higher-ups not to publicly identify migrants as criminal suspects over concerns that doing so would encourage a 'racist' backlash against the wave of asylum seekers entering Scandinavia.
Police also confirmed that the culprits were "asylum seekers".
Despite the fact that a police officer told the Express news website that the perpetrators, "were all asylum seekers, carrying copies of their residence certificates," mainstream news outlets like the BBC reportedthat "there was no official confirmation that asylum seekers had been involved in the violence."
Apparently, the BBC doesn't think that the police represents an "official" body.