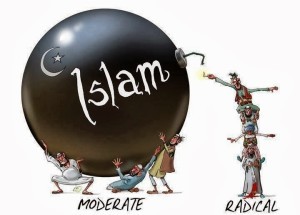 By John W Lillpop
Those among us who genuinely love America and American values have struggled mightily to weather Barack Obama's incessant denial concerning Islamic extremists. Through prayer and fasting we have fervently asked that America be allowed, somehow, to make it to January 20, 2017 without the nation being destroyed by acts of Islamic terrorism and or reckless adoption of Shari Law.
It has been our hope and belief that once Barack Obama no longer
wields the power and authority of the US presidency, the best interests of the American people will become a top priority of the next Commander-in-Chief, sans all the Obama pandering and Muslim-centric idiocy.
To our horror, we discovered that the Obama surrender to the forces of evil has penetrated lower municipal governments, including that of Philadelphia, once a proud beacon of hope for right-thinking and living.
As reported, a recent terrorist attack in the City of Brotherly Love has exposed the extent to which Obama's myopic acceptance of Islamic terrorism has invaded our cities.
As reported:
The Muslim man who said Islam motivated him to shoot a police officer does not represent the teachings of Islam, Philadelphia Mayor Jim Kenney stated in a press conference on Friday afternoon, following an attempted execution by a man who had reportedly pledged to the Islamic State.
A 33-year-old Philadelphia policeman, Jesse Hartnett, was ambushed late Thursday when Edward Archer, a Muslim man, reportedly tried to execute him while he was sitting in his police vehicle. Images from the incident show a man dressed in Muslim attire firing off a reported 13 rounds at officer Hartnett. The police officer was hit three times, but did not suffer life threatening injuries and is expected to recover fully, reports said.
According to Philadelphia Police Commissioner Richard Ross, the suspect said he had committed the attempted execution in the name of the Islamic State, the jihadi terrorist insurgent group that controls territory in the Middle East.
"According to him [the shooter], police bend laws that are contrary to the teachings of the Quran," said Commissioner Ross.
Mayor Kenney began by expressing his well-wishes for the officer who the Muslim man attempted to execute, but then spent the latter part of his statement distancing Islam from the shooter, who claimed he was carrying out the shooting for Islam.
"In no way shape or form does anyone in this room believe that Islam or the teaching of Islam has anything to do with what you've seen on the screen," said Mayor Kenney.
"That is abhorrent. It's just terrible and it does not represent this religion [Islam] in any way shape or form or any of its teachings," he added. "This is a criminal with a stolen gun who tried to kill one of our officers. It has nothing to do with being a Muslim or following the Islamic faith."

Just why in the hell are mush-brained politicians like Mayor Kenney so intent on providing unsolicited excuses for sub-human behavior executed in the name of Allah?