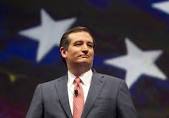 HOUSTON, Texas – Over the weekend, Presidential candidate Ted Cruz continued to gain momentum as courageous conservatives around the country continued to coalesce behind his campaign for President. In Idaho, Cruz scored two major victories among Republicans, as the Gem State's Presidential Primary approaches on March 8th.
The leadership of the Idaho Republican Party gathered in Boise for its annual Winter Meeting on Friday and Saturday. The party hosted a Presidential Candidates Reception and Straw Poll on Friday evening, with Ted Cruz winning the poll by more than a 2-1 margin with support from 40 percent of the vote. Marco Rubio finished a distant second with 18 percent, while Donald Trump scored 13 percent, Ben Carson had 11 percent, and Rand Paul netted 8 percent. Jeb Bush, Carly Fiorina and John Kasich each had 3 percent, while Rick Santorum was at 1% and all others finished with no votes.
In addition, on Saturday morning, the Republican Liberty Caucus of Idaho released results of a poll conducted among its full statewide membership. Once again, Ted Cruz won with 48 percent of the total vote. Rand Paul finished with 30 percent, while Donald Trump gained 20 percent, Marco Rubio was at 2 percent, and the other candidates each finished with zero.
"I would like to thank Republicans in Idaho for their vote of confidence and support in this weekend's Idaho GOP straw poll, as well as the poll among members of the Republican Liberty Caucus in Idaho," Cruz stated. "We have a growing, grassroots team of courageous conservatives in Idaho, led by our chairman, Treasurer Ron Crane, and our state director, Norm Semanko, and these two votes demonstrate that Idahoans are coalescing around our campaign."
"People in Idaho and across our nation are desperate for a leader who will fight for us and protect our freedoms," added Idaho State Treasurer and Cruz Chairman Ron Crane. "Ted Cruz has a proven record of not wavering or ducking the tough battles, and he stands with Idahoans and Idaho values by opposing Washington's reckless spending and infringement on our rights."