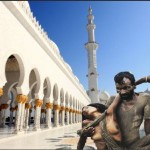 Worst countries on Earth for abuse of women …. Gee… they're all filthy Muslim s!ht holes… what a surprise.
HOW COUNTRIES RANK (from worst to best)
Note: the higher the number, the worse the country
RANKING SCORE
22. Egypt 74.895
21. Iraq 73.070
20. Saudi Arabia 72.680
19. Syria 72.390
18. Yemen 71.862
17. Sudan 71.686
16. Lebanon 66.931
15. Palestinian territories 66.629
14. Somalia 65.856
13. Djibouti 62.920
12. Bahrain 62.247
11. Mauritania 61.490
10. United Arab Emirates 61.482
9. Libya 61.097
8. Morocco 60.229
7. Algeria 59.130
6. Tunisia 58.545
5. Qatar 58.372
4. Jordan 58.218
3. Kuwait 58.119
2. Oman 58.081
1. Comoros 51.375
Sexual harassment, high rates of female genital cutting and a surge in violence and Islamist feeling after the Arab Spring uprisings have made Egypt the worst country in the Arab world to be a woman, a poll of gender experts showed on Tuesday.
Despite hopes that women would be one of the prime beneficiaries of the Arab Spring, they have instead been some of the biggest losers, as the revolts have brought conflict, instability, displacement and a rise in Islamist groups in many parts of the region, experts said.
Iraq ranked second-worst after Egypt, followed by Saudi Arabia, Syria and Yemen. Comoros, where women hold 20 percent of ministerial positions and where wives generally keep land or the home after divorce, came out on top, followed by Oman, Kuwait, Jordan and Qatar.
Now for Muslim in Europe, watch what they say to this European reporter on live TV.