No Jews allowed in safe spaces on campus,  you would think this story originates out of Saudi Arabia or Iran, but no this is right here in the United States of America all due to leftism and the continued hatred from fascist progressives. Remember Nazism was a leftist movement, not a conservative movement like the left tries to propagate.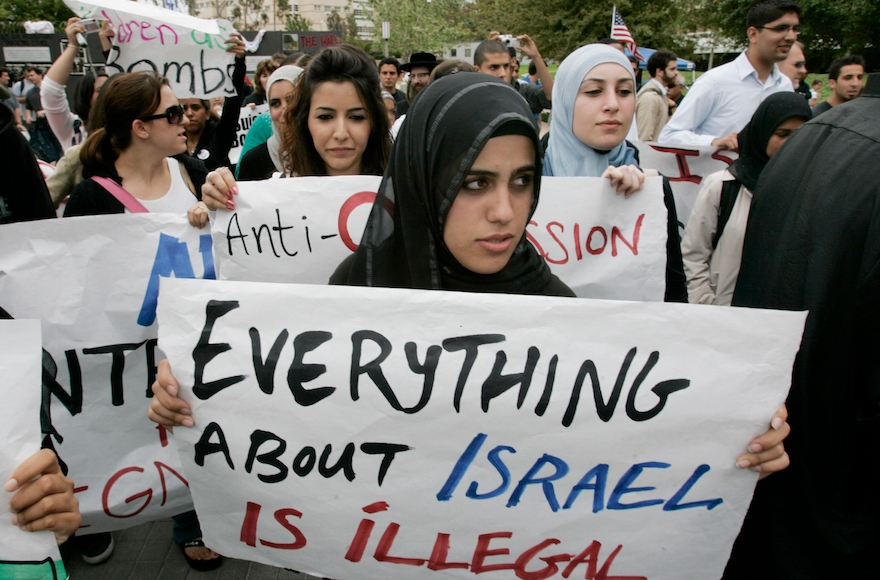 When Arielle Mokhtarzadeh and Ben Rosenberg arrived at University of California, Berkeley on November 6 to attend the annual Students of Color Conference, they had no way of knowing that they would be leaving as victims of anti-Semitism.
The University of California Student Association's "oldest and largest conference," the Students of Color Conference (SOCC) has maintained a reputation for 27 years as being a "safe space" where students of color, as well as white progressive allies, can address and discuss issues of structural and cultural inequality on college campuses. Students who attend are encouraged to be cognizant of their language while exploring topics that directly affect students from marginalized communities: the school-to-prison pipeline, sexual violence, decreased funding to ethnic and LGBT studies departments, racially insensitive speech, and perhaps most importantly, a "disquieting trend" of hate crimes on university campuses statewide.
It was this disquieting, yet growing, trend of hate speech and crimes directed towards Jewish students within the UC system that spurred Mokhtarzadeh and Rosenberg, both Jewish sophomores at UCLA, to attend the conference. Their freshman year was punctuated by incidents of anti-Semitism that were both personal and met with national controversy. They were shocked during their first quarter in school, when students entered the Bruin Cafe to see the phrase "Hitler did nothing wrong" etched into a table. Months later, Mokhtarzadeh's friend, Rachel Beyda, was temporarily denied a student government leadership position based solely on her Jewish identity, an event that made news nationwide. Throughout the year, they saw the school's pro-Palestinian group, Students for Justice in Palestine (SJP), issue criticism of Israel that overstepped into anti-Semitic rhetoric and hate. The campus was supposed to be their new home, their new safe space—so why didn't they feel that way?
At a conference facilitated by peers who they believed were fighting the righteous battle against racist speech and hate crimes, Mokhtarzadeh and Rosenberg heard anti-Semitic statements that were met with applause and approval—statements like "the state of Israel pays Jews to move to Israel to join the army and kill Palestinians" and even "you shouldn't buy Ben and Jerry's because they're Jewish and have a shop in Israel." But perhaps the most painful, and upsetting portion of SJP's presentation was the section called "Intifada: Peaceful Uprising."
Mokhtarzadeh, a Jew, raised her hand to protest, but it was too late. The whole room—representing a diverse cross-section of liberal progressive activists and students of color—was holding hands, embraced in each other's support and calling out "Free, free Palestine!"
They walked out, Mokhtarzadeh on the verge of tears. Rosenberg tried to reflect on what he had heard and experienced. "It wasn't even just about that session," he confessed.
It was a prevailing sentiment that I felt at the conference and in the progressive community, that because I am Jewish, I cannot be an activist who supports Black Lives Matter or the LGBTQ community. When I heard that among my peers that "the Jews are oppressors and murderers—How can you care about students of color on campus when they're murdering our people abroad?"—it quickly dawned on me that it wasn't that they don't like us because we're pro-Israel—they don't like us because we're Jews. We were targeted. It's such a shame that the SOCC solidified and supported this belief of mine.
It was, ironically, in a safe space intended to protect students from discrimination and bigotry in which their Jewish identity was marginalized, ostracized, and politicized. And it was the progressive students and students of color—often themselves targets of hate, bigotry, and discrimination—who were the propagators of ancient hatreds against the Jewish people.
Mokhtarzadeh still painfully remembers that weekend. "I was made to feel uncomfortable and unwanted in a space that was meant to be inclusive and safe," she said. "It was in that moment, during that conference, that I realized that every identity and every intersection of identity was to be welcomed and championed in progressive spaces—except mine."
Ecluding Jews from the progressive movement for racial justice is not isolated to the Students of Color Conference. The recent surge of progressive activism on college campuses across the country has led to many debates on the merits of concepts like "microaggressions" and "safe spaces" in educational settings that should respect free speech and dialogue. Student uprisings against racial injustice and discrimination at Yale, the University of Missouri, and dozens of other universities have shown the power of students who have banded together against institutionalized racism in academia and the student body. But little has been said about how the idea of "intersectionality"—the idea that all struggles are connected and must be combatted by allies—has created a dubious bond between the progressive movement and pro-Palestinian activists who often engage in the same racist and discriminatory discourse they claim to fight. As a result of this alliance, progressive Jewish students are often subjected to a double-standard not applied to their peers—an Israel litmus test to prove their loyalties to social justice.
This is something Rosenberg knows all too well as a progressive at UCLA. "It's becoming increasingly aware to me that, regardless of my views on Israel, people are viewing being a Jew and being a social justice activist as being mutually exclusive," he said. "The conversation surrounding Israel on campus has turned into a conversation about Jews. Even if Jewish students care about social justice issues, they can't participate."
In an interview with The Jewish Week, Aryeh Weinberg, director of research at Be'Chol Lashon, a nonprofit that advocates for racial diversity in the Jewish community, shared research showing that progressive Jewish students feel like they have to hide their Jewish identity in order to belong in these movements. Such was the case of Michael Stephenson, a Jewish sophomore at the University of Missouri who participated in the racial justice protests last fall, and yet felt his Jewish identity undercut his "social justice" credibility. He told The Jewish Week that there were countless moments when his social justice cred was questioned, including statements that "bordered on anti-Semitism." A rabbi who attended a Black Lives Matter meeting was deemed a "true terrorist" for donating funds to Israel; some activists tried to justify the recent wave of Palestinian stabbings of Jews in Israel. Stephenson is still a staunch supporter of the Black Lives Matter movement, but, he said, "It's started to feel like Jewish lives don't matter."
While the effectiveness of campus protests is worthy of debate, it should remain undeniable—and undeniably troubling—that the progressive college movement, and specifically pro-Palestinian groups within it, have pushed anti-Semitic rhetoric in the name of progressive values. For example, the SJP chapter at Northeastern University likes to fashion itself a progressive organization, but in 2012 the school's SJP advisor was recordedtelling members to be proud to be called an anti-Semite—to wear it as a "sign of distinction. This proves that I'm working for the right side, the just cause."
The ramifications of ignoring the normalization of anti-Semitism cannot be understated: The most
recent FBI hate crime
report
found that 58.2 percent of hate crimes motivated by religious bias were targeted at Jews. Jews make up
2.2 percent
of the American population, so the FBI's statistics make it clear that Jews are the most disproportionately attacked religious group in America. It should be troubling to everyone that an SJP member at Temple University
physically assaulted
a pro-Israel Jewish student two years ago, calling him "kike" and "Zionist baby killer." But it should be far more troubling that the SJP chapter at Temple (like all SJP chapters)
promotes itself
as a progressive organization, claiming solidarity with movements such as Black Lives Matter.
Brennan Thorpe, a pro-Israel student at Portland State University, told me how the pro-Palestinian movement has used "intersectionality" to co-opt the struggles of marginalized communities and promote themselves as a progressive movement.
The [university] administration is very progressive and liberal, and understands anti-Semitism, but most of the hate comes from the student body, especially the pro-Palestinian people. They tie the Palestinian cause to environmental issues, Black Lives Matter, feminism, LGBTQ rights, and pretty much all progressive causes. And, while they pursue these progressive causes, they also say that Israel doesn't have a right to exist and Jews don't deserve a state, even though they admitted they had no problem with any of the other modern nation states that have a particular ethnic identity. It's frustrating because it's a cultural trend in the student body that I feel like we can't stop.
To understand the festering anti-Semitism within the progressive movement, it's important to dissect how SJP and similar groups have co-opted and mobilized campus progressives to further a cause that is  progressive.
It may not surprise you that Students for Justice in Palestine was founded at UC Berkeley, the self-proclaimed apex of progressive activism. But anti-Israel co-option of progressive causes dates as far back as 1959, when the General Union of Palestinian Students was founded in Egypt. Supportive of anti-Israel terrorist groups like the Popular Front for the Liberation of Palestine, the GUPS saw a need to create a unified plan and message for student activists. It released a statement calling for students to channel their activism into supporting the "Armed Struggle" and fighting Israel from abroad. It is in this statement that the first mention of alliance with progressives is mentioned, as Ido Zelkovitz recounted in Students and Resistance in Palestine: Books, Guns and Politics.
GUPS members located outside of the Arab countries would be called upon to join forces with other local progressives sympathetic to the Palestinian revolution. Members in the Palestinian diaspora would be encouraged to cooperate with the progressive political forces in their host countries to counter official Zionist activities, lectures and movie screenings.
When the GUPS established a chapter at San Francisco State University in 1973, it organized accordingly, focusing its mission on "social justice" while simultaneously supporting Palestinian liberation through armed struggle. The GUPS at SFSU strategically gained support from progressive activists during an era when San Francisco was embracing and propelling radical identity politics and progressive activism. For the GUPS, San Francisco would serve as a launching point for spreading support for the pro-Palestinian and anti-Israel cause in the American progressive community.
This coincided with the growing sympathy that the American New Left—an anti-war, anti-establishment political movement which gained steam in the 1960s and '70s—had for the Palestinian cause. Until the late '60s, the American New Left had very little concern for Middle Eastern affairs. While people like Noam Chomsky and organizations such as the Young Socialist Alliance were critical of Israeli policy, they failed to reach and resonate with the larger movement.
The Six-Day War in 1967 was a critical turning point in how the American New Left viewed Israel—and in turn, Jews. This change was largely spurred by the Left-aligned radical Black Power movement, which gradually grew to view Arabs in the region as an oppressed Third World people—and therefore Jews as oppressive, white "imperialists." They subsequently came to express sentiments about Jews that were blatantly anti-Semitic. After the war, the Student Non-Violent Coordinating anti-Semitic. After the war, the Student Non-Violent Coordinating Committee (SNCC), a black civil rights organization, published a cartoon in its newsletter depicting a hand with a Star of David marked with a dollar sign, holding a noose hung on the neck of black activist and boxing champion Muhammad Ali. SNCC had been a widely influential student group during the Civil Rights movement, inspiring the New Left with its grassroots approach to community outreach. But growing identification with the Arab world had turned SNCC into a hostile and even anti-Semitic place for progressive Jews. Dotty
Miller, a Jewish graduate student who worked in the SNCC offices in Atlanta,
recounted
details of an anti-Semitic incident that could easily have happened today.
[Someone] came into the SNCC office and began denouncing the presence of Jews in the civil rights movement. "The only wrong thing that Hitler did was that he didn't burn up all the Jews," [he] said.
In an impassioned Facebook post, Bernstein expressed his outrage at this display of blatant anti-Semitism and drew parallels with a similar case at UCLA, where Rachel Beyda was rejected from serving a position from the Student Council's judicial board after being asked, "Given that you are a Jewish student and very active in the Jewish community, how do you see yourself being able to maintain an unbiased view?" (The council's ruling was later overturned).
This does not even begin to scrape the tip of the iceberg of SJP's anti-Semitic statements, which it seems to spread with little consequence. Jews have been called "baby killers" and told to "wipe the blood off their boots"—the history of SJP activists perpetuating anti-Semitic microaggressions is endless. Northeastern's SJP chapter was so persistent in their anti-Semitic harassment—from defacing the statue of a Jewish donor to disrupting Holocaust awareness events—that the university was forced to temporarilysuspend the organization in 2014. The SJP chapter at Vassar College eventweeted Nazi propaganda from 1944.
When these events happen, there are no outcries from the progressive community about the prevalence of microaggressions. Tyler Fredricks, a student at Duke, has noticed the variation in responses from the SJP-aligned progressive crowd when instances of anti-Semitism occur.
The issue is systemic, and so the solution must also be systemic. This means making the progressive community understand the ramifications of anti-Semitic speech.
Mokhtarzadeh will not remain silent. She said she wanted to share her story so that students, Jewish or Gentile, will realize the magnitude of the issue and speak out against anti-Semitism just like they would for any other form of hatred or bigotry. Mokhtarzadeh is a Iranian Jew and said the antisemitism under progressive liberalism is almost as bad as how Jews are treated in Iran under an Islamist regime.
"I share my story," she saidd, "not for the sake of gaining your sympathy, I don't need it—but for the sake of inspiring those who have also been subjected to anti-Semitism, and other forms of identity-based hatred, and empowering them to define their experiences instead of allowing their experiences to define them."