Hillary Clinton was humiliated in New Hampshire as Bernie Sanders swept to victory – prompting her campaign to admit she would concede minutes after the polls closed. Early projections put Sanders on 58% to Clinton on 40%, a margin of victory which a quick concession the only option. Networks called the race at 8 p.m. for the Vermont senator, as those gathered to celebrate with Sanders at the Concord High School screamed and cheered. Clinton conceded by telephone to Sanders, who becomes the first Jewish-American to ever win a primary.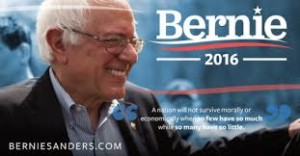 Donald Trump who put his gold-medal hopes on hold a week ago, claimed the top prize in the New Hampshire Republican primary on Tuesday as he defeated a gaggle of establishment politicians and the outsider senator who bested him in Iowa. With about 10 per cent of the votes counted in the Granite State, Trump, center with wife melania and daughter Ivanka, led the field at 34 per cent of the total vote in an election that poll-watchers expected would set a new record for voter participation. The margin of victory, if it holds, will be stunning even in the face of late polls that had the billionaire real estate developer ahead by double digits.
John Kasich, the Ohio governor who made a late surge on the strength of a longstanding in-state organization, was sitting in second place at 16 per cent. The rest of the second tier looked to be bunched up at between 12 and 10 per cent, with margins so narrow that the results won't be known for hours.
Former Florida Gov. Jeb Bush held in a tie for third place with Texas Sen. Ted Cruz at 11.6 per cent, keeping pace with their poll numbers – although Bush's political obituary has been written several times in the past two months, but his strong canvassing organization knocked on more than 100,000 doors in the Granite State. Florida Sen. Marco Rubio, who stumbled in the closing days of the campaign when he repeated himself often enough to be saddled with a 'robot' nickname, sat at 10 per cent early on and looked as though he would finish the night outside the top four.