The Republican members of the Senate Judiciary Committee have officially declared they will not hold a hearing on anyone President Obama nominates for the Supreme Court.
In a letter today, signed by all 11 Republicans on the 20-member committee, the members tell their Senate majority leader, Mitch McConnell of Kentucky, they will "not hold hearings on any Supreme Court nominee until after our next president is sworn in on January 20, 2017."
Senate Republicans are using a 1992 speech by Vice President Joe Biden, then senator, to score a political goal in the battle to replace the late Supreme Court Justice Antonin Scalia.
In his remarks, Biden, who at the time was Senate judiciary committee chair, explicitly called on the then-president George H. W. Bush not to put forward any Supreme Court nominee so close to election.
'It is my view that if a Supreme Court justice resigns tomorrow or within the next several weeks, or resigns at the end of the summer, President Bush should consider following the practice of a majority of his predecessors and not — and not — name a nominee until after the November election is completed,' Biden argued.
Senate Republicans are seizing the comments to hit back at Democrats who have criticised Senate Majority leader Mitch McConnel for saying that Obama should not appoint another justice to the high court with the election year under way.
Mr. Biden went so far as to say that Mr. Bush shouldn't even bother to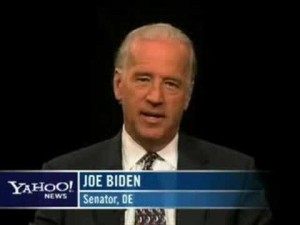 nominate anyone, much less have the Senate approve the pick — exactly the stance Republicans are now taking toward Mr. Obama.
"These are the Biden rules," Sen. Chuck Grassley, the Iowa Republican who now chairs theJudiciary Committee, said Monday as he recounted the Biden speech on the Senate floor.
Mr. Biden's comments cut even deeper, with the former senator saying in his 1992 speech that not only does the Senate have the right to reject nominees, but presidents shouldn't even try to send one to Capitol Hill in the middle of an election.