FoxNews.com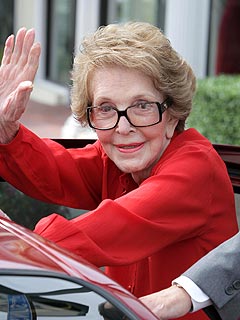 Nancy Reagan, the widow of President Ronald Reagan and passionately devoted keeper of his flame, died Sunday morning of congestive heart failure at 94, according to her spokesperson.
Reagan died at her home in Los Angeles. She's set to be buried at the Ronald Reagan Presidential Library in Simi Valley, California, next to her husband. Prior to the funeral, there will be an opportunity for members of the public to pay their respects at the Library, the spokesperson said. Details had not yet been announced Sunday afternoon.
Reagan, whose husband died in 2004, had appeared frail after suffering several falls in recent years. In May 2012 it was disclosed she had broken several ribs in a fall at her Los Angeles home six weeks earlier.
Although she initially worked as an actress, the former first lady was, first and foremost, Mrs. Ronald Reagan.
"My life really began when I married my husband," Nancy Reagan once said, and for 52 years of marriage they were a fiercely close and devoted couple.
"Thank God we found each other," she said in a 1998 interview. "Can't imagine life without him."
Nancy Davis Reagan was born July 6, 1921 in New York City as Anne Frances Robbins. Her father was Kenneth Seymour Robbins, a used car salesman, and her mother Edith P. Luckett, was an actress. She became known as Nancy as a child.
Her parents divorced when she was young and her mother remarried Dr. Loyal Davis, a Chicago neurosurgeon, who adopted her.
She took his name and attended private school in Chicago, followed by Smith College, where she majored in drama.
Nancy Davis began her career as an actress in stage, film and television productions. In 1951, she met Reagan when she found her name on a newspaper list of supposed Communist sympathizers and she consulted the actor, then president of the Screen Actors Guild, to see what could be done about it. (He said she'd been confused with another actress with the same name).
They married on March 4, 1952 (it was his second marriage after divorcing actress Jane Wyman) and had two children who survive her, Patricia and Ron. She also is survived by a stepson, Michael. Her stepdaughter, Maureen, died in 2001.
In all, Nancy Reagan made 11 movies, the last, "Hellcats of the Navy" (1956) opposite her husband.
"I must say acting was good training for the political life which lay ahead for us," she observed – along with "the movies were custard compared to politics."
Ronald Reagan served as governor of California from 1967-1975 and as the state's first lady, Nancy became a champion of the Foster Grandparent Program, which brought together senior citizens and handicapped children.
Following her husband's election to the presidency in 1980, Reagan launched a project fighting drug and alcohol abuse among young people and "Just Say No" became its byword.
She also was known as a fierce protector of her husband, especially after the 1981 attempt on his life. To this end, she even consulted an astrologer about his schedule – a fact later revealed to some uproar by former chief of staff Donald Regan in his memoir.
From 1981-89, Nancy Reagan was annually voted one of the world's ten most admired women in a Gallup poll and three times, she came in at number one.
In 1987, the then 66-year-old first lady was diagnosed with breast cancer. After undergoing successful surgery, she raised awareness of the disease among many women and in her later memoir "My Turn," she stressed the importance of annual mammograms.
Following Reagan's retirement after two terms as president, the couple left Washington for California, where in 1994, the president announced he had been diagnosed with Alzheimer's disease. She spent most of her time caring for him until his death on June 5, 2004.
As a widow, Reagan remained active within the Reagan Library and became an advocate for stem cell research.
As she grew increasingly older and frail in appearance, she only rarely made public appearances.