After month of total abuse of the system and Economic migrants flooding Europe, most of them not being refugees buy economic migrants looking for the nicest apartment and a new Mercedes proved by the taxpayers of Germany.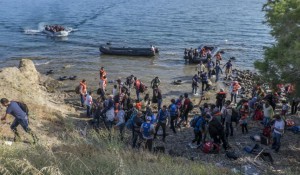 Police officials, speaking on condition of anonymity, have told AP that only those who come from cities where fighting is taking place will be validated to enter Macedonia starting from this Sunday. People from Syria's Aleppo are considered refugees, since it's a warzone, whereas citizens of Damascus would not be allowed to enter. The Syrian capital is deemed safe.
The same applies to the Iraqi capital of Baghdad, despite the fact that both capitals are subject to terrible acts of terror that claim the lives of dozens of civilians on a regular, almost daily basis.
A Turkish offer to take back all illegal migrants who leave its shores for Europe is a potential breakthrough toward resolving the EU's migration crisis, German Chancellor Angela Merkel said on Tuesday.
She told a news conference after a 15-hour European Union summit with Turkey that EU leaders supported the basic outlines of the plan put to them by Prime Minister Ahmet Davutoglu but more work was needed to reach agreement by the next EU summit on March 17-18.
 We have the  deal,Turkey agreed to keep on its soil all refugees and also take back all refugees who have made it to Greece,the 35,000 refugees who are currently stuck in Greece will be deported back to Turkey with fast track processes.
Asked whether she still opposed Turkish membership of the EU, Merkel said the issue was "not on the agenda today".
Merkel says deal "breakthrough" if implemented, EU council president says "days of irregular immigration to Europe are over".