MoveOn.org, Black Lives Matter, Communists, and Domestic terrorists turned out tonight to shut down Donald Trump's rally in Chicago.
They were planning on rushing the stage during Trump's speech.
The protesters then turned on the Trump supporters, saying groping the women was OK because "they are racist white b*tches."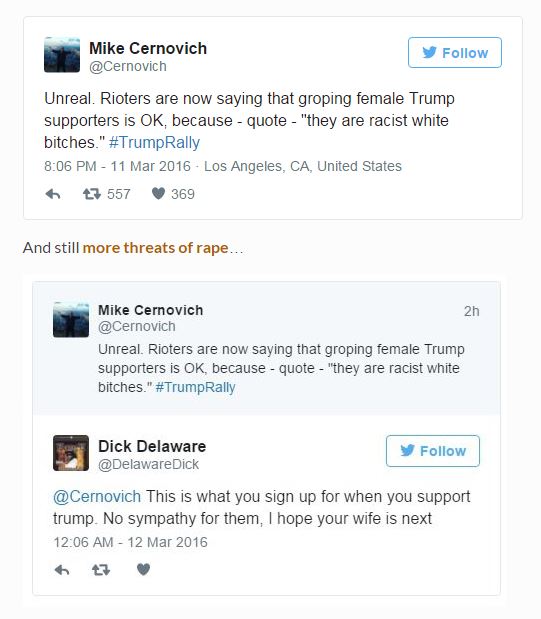 Unreal. Rioters are now saying that groping female Trump supporters is OK, because – quote – "they are racist white bitches." #TrumpRally

— Mike Cernovich ???????? (@Cernovich) March 12, 2016
Group of protesters (on the right) trying to provoke a single Trump supporter (left) pic.twitter.com/8NiPU2k7Qr

— Dr Caveman (@The_Dr_Caveman) March 12, 2016
We see what is going on in Germany and European countries and ignoring it by justifying it saying that wont happen in the U.S. Obama and his minions are making it happen here. He has terrorist in our country waiting to enter when there is a vacuum created by George Soros's moveon.org. A 501 tax exempt status org. for the political purpose of sociakism.
Obama does nothing to this unlawful group, if anything he is cheering them on in support against citizens, Police, whites and conservatives. He has allowed brain washing in colleges like Hitler did in Germany. Obama has kept our borders open to allow terrorist in, his dividing the country with his hate of whites has created this blacklives matter racist. This is part of  Obama's plan in order to destroy America, this is not an isolated incident. This is the beginning of the physical destruction to cause chaos and form the vacuum needed for Obama's brotherhood to move in. Unless we all open our eyes to the truth and stand up for America, America is gone.