Secret Service agents needed to surround Donald Trump on stage during his rally in Ohio on Saturday as a man rushed the stage threw an object toward Trump and what looked to be grabbed his shoe or leg, this happening only a day after Trump canceled an event over safety concerns yesterday.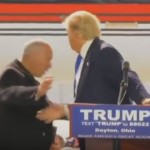 Four Secret Service agents jumped onto the stage and surrounded Trump. The attacker who rushed the stage was later arrested and charged with disorderly conduct and inducing panic, according to Dayton police.
The clashes between protesters and his supporters, which Trump called "disgraceful," led to five arrests and two police officers being injured.
Earlier in the day, Trump blamed "thugs" who denied him his First Amendment rights at the rally.
Considering everyone knows Soros backed Moveon.org is organizing this, there now needs to be an investigation on this, or we can kiss democracy goodbye. The liberal fascist are out in full force.
The organized group of people, many of them thugs, who shut down our First Amendment rights in Chicago, have totally energized America!

— Donald J. Trump (@realDonaldTrump) March 12, 2016
Watch the attack here:
I think the violent #BlackLivesMatter goons swayed a lot of voters over to voting Trump today. Ppl are fed up with these racist thugs

— Jake Bradford (@jake_bradford_1) March 12, 2016
#BlackLivesMatter just guaranteed a #Trump win in IL. A group that condones violence against those that don't agree with them.#TrumpRally

— Josh M (@JG_KB24fan) March 12, 2016