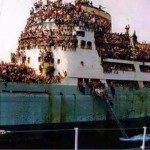 New E.U. deal approved. All illegal migrants who reach Greece from Turkey starting March 20 will be returned to Turkey.
After months of acrimony, the European Union and Turkey reached a landmark deal on Friday to ease the migrant crisis and give Ankara concessions on better EU relations.
In a final meeting high on smiles, handshakes and backslapping, the 28 EU leaders and Turkish Prime Minister Ahmet Davutoglu sealed an agreement that will allow thousands of migrants to be sent back to Turkey as of Sunday, while Ankara will see fast-track procedures to get billions in aid to deal with refugees on their territory, unprecedented visa concessions for Turks to come to Europe.
For the EU, the deal brought some closure to months of bitter infighting over how to deal with the migrant crisis, which would essentially see Europe outsource its refugee emergency to Turkey.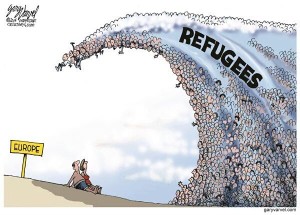 With more than 1 million migrants arriving in Europe over the past year, EU leaders were desperate to clinch a deal with Turkey and heal deep rifts within the bloc, while relieving the pressure on Greece, which has borne the brunt of arrivals.
More than 46,000 illegal invaders are trapped in Greece, after Austria and a series of Balkan countries stopped letting through illegal migrants who reach Greece from Turkey and want to go to Europe's prosperous heartland mostly for Economic reasons. Greece wants refugees to move from Idomeni to organized shelters.
part from easing visa restrictions, the EU will also offer Turkey — home to 2.7 million Syrian refugees — up to 6 billion euros ($6.6 billion) in aid.