San Francisco State University has confirmed the authenticity of a cell phone video showing a racist black student angrily confronting and physically detaining a white classmate, accusing him of cultural appropriation for wearing dreadlocks.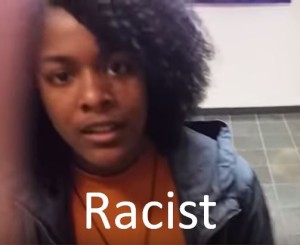 Race has been made a major issue on campuses across the world for some time now, with "Black Lives Matter" bigots have been marching into libraries and intimidating students, white students banned from anti-racism events, students screaming at professors over safe spaces from culturally oppressive Halloween costumes, and much more. The Obama administration seems to be cheering on this black racism against others.
A police investigation has been launched, and while SFSU denies Tindle is its employee, it has confirmed she is a student, and issued a statement.
We are aware of the video made of an incident which occurred on campus yesterday afternoon. University police were called to the scene of the incident when it occurred. The two individuals involved in the incident are not San Francisco State University employees. Further, no criminal charges have been pressed at this time to the University's knowledge.
San Francisco State University promotes the rights of the campus community to engage in free speech, but does not condone behavior that impedes the safety or well-being of others. We are taking the matter seriously and will promptly and thoroughly investigate this incident through applicable University channels, including our campus student conduct procedures.